GRAND OPENING OFFER
Establish with our clinic as a "Founding Patient" and enjoy Special Status and Privileges!*


Chris Erigo-Backsman AGNP-C, FNP-C

20% OFF - Initial assessment for "Founding Patients"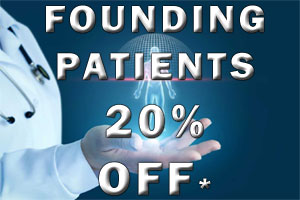 Founding Member Privileges
- Excusive Discounts on Bio-Identical Hormone Replacement Therapy (BHRT)
- Special Pricing on our FULLY CUSTOMIZED medically supervised weight loss program
*"Founding Patient" offers only valid for first 50 new patient sign-ups
Optimized Health and Wellness is a nurse practitioner owned and operated health and wellness clinic. Our clinic services focus on bioidentical hormone replacement and optimization, medically supervised weight loss, and CDB therapy. https://www.optimizedhealthwellness.com/
Q & A

Who would benefit from bio-identical hormone replacement therapy (BHRT)?
Adult Men and Women of varying ages may benefit from BHRT. In fact, many adults, who experience the symptoms, are not even aware that a hormone deficiency could be the cause of their problems.
- Always Tired, can't seem to get enough sleep, difficulty sleeping
- Lost interest or pleasure in physical intimacy (low sex drive)
- Decrease muscle and/or bone mass
- Mood changes, minor, depression, stress, anxiety -Erectile dysfunction, hot flashes, vaginal dryness and painful sex
More info visit: https://www.optimizedhealthwellness.com/hormone-replacement-therapy/



Why choose CBD therapy?
CBD therapy can be used to manage and alleviate chronic pain and inflammation, insomnia, brain fog, and mild mood disorders like stress and anxiety. We offer the purist CBD that has been designed by our team of physicians & pharmacists in collaboration with out Agricultural Sciences & Process Engineers.
More info visit: https://www.optimizedhealthwellness.com/services/



What do you offer with Medically Supervised Weightloss?
Goodbye Fad Diets. Hello, success! Losing weight helps you look and feel great. Wellness solutions and services can enhance your new healthier appearance. Our medical weight loss program is the cure to the common fad diet. We know that the safest and most effective way for you to control your weight is through a program designed specifically for you. There are five components to our proven medical weight loss and wellness program.

- TAKING YOUR GOALS PERSONALLY
- A MEDICAL APPROACH
- AN EMPHASIS ON REAL FOOD
- ACHIEVABLE FITNESS GOALS
- A FOCUS ON MAINTENANCE

Losing weight is the immediate goal, but keeping it off is the ultimate one. Once you reach your target weight, our teams will help you implement an individualized maintenance program designed to prevent the yo-yo effect typical of fad diets.
More info visit: https://www.optimizedhealthwellness.com/medically-supervised-weightloss/
MEET US
OFFICE:
Optimized Health and Wellness, LLC
7305 Ehrlich Road
Tampa, FL 33626
813-586-2220
https://www.optimizedhealthwellness.com/
For your convenience, they are located inside Fit Elements - a personal training and wellness
studio located in the heart of bustling Citrus Park in Tampa, Florida.