Howl-O-Scream 2020 – The Fear is in your Eyes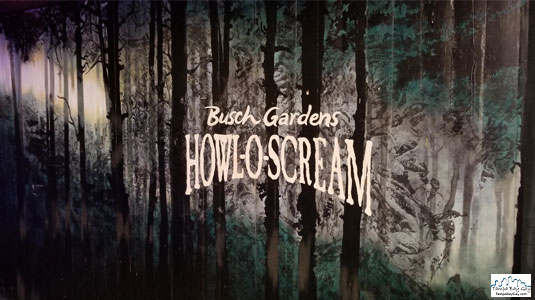 October is here and Halloween is in full swing. We have been bringing you some of the Tampa Bay area's best in Haunted scares. Let us not disappoint you when we say Busch Garden's, Howl-O-Scream will continue that terror all month long, a definite "Must Do". Earlier this month we took a trip to Busch Gardens to check out this years event, here is our recap.

Before we get started on sharing our visit to this year's event, I wanted to share some of the cost and the upgrade options in case you want the ultimate experience. They do require temperature checks before entering and masks are required at all times.

Tickets for this year's event start at $29.99 depending on the night that you are attending. Front-of-the-line-access passes are available for an additional fee but you will skip the lines at most of the rides, coasters and some select "Scare Zones", there is an Unlimited option too. If you are a big fan of the "FIENDS" show, you can purchase VIP seating passes starting at $19.99 and that includes one cocktail/beverage. Last but not least, if you are looking to get a group together, they offer a nice little discount for groups of fifteen or more.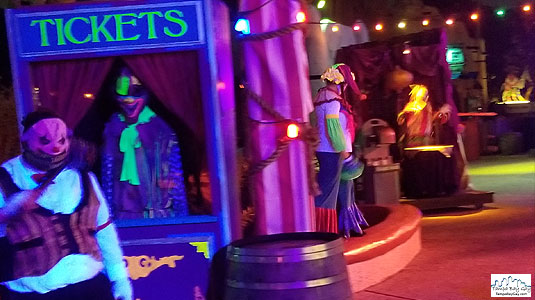 I would like to give a special thank you to the Busch Garden's staff for having us as their guest for this year's event. This year's event has been modified for the safety and protection of the staff and guests during the COVID-19 Pandemic. Keep in mind that there is a capacity limit set, so get tickets and make your reservations early. Now that we have all the details worked out, here is our take on HOWL-O-SCREAM 2020.

Probably the largest modification to this year's event is the elimination of haunted houses. No indoor mazes will be on this year's list; however they are offering ten walk through Open Air "Scare Zones". Four of them feature a NEW theme in addition to the return of some favorites.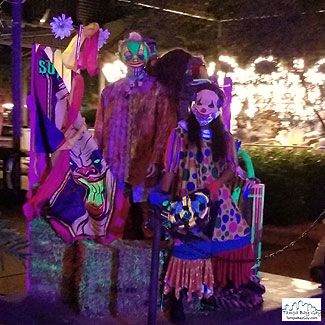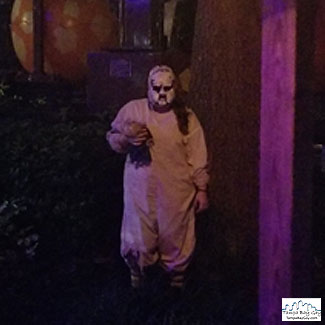 Honestly, at first I was not really sure how effective this would be; I was wrong, in fact I was very wrong. I think that the adaptation of scares into the scenery of Busch Gardens is the key. Being a little familiar with the areas, I felt more comfortable, but then all the sudden, something in the shadows are heading right towards me.

Here are the names of the Scare Zones; I do not want to pick a favorite because each has its own unique offerings, however I will share my top three and why I chose those. As stated earlier, ten open air Scare Zones, located throughout the park. The NEW zones for this year are: Lycan Landing, The Shortcut, The Junkyard and The Escape. The returning favorites include: First Fear, Little Nightmares, Maniac Midway, Deadly Toys, Hell on Wheels and Dia De Los Muertos.

My top three would include: Lycan Landing, The JunkYard, and Deadly Toys and here is why. Again there is no specific order for these and I am not any type of professional, so in my opinion these did it for me.

Lycan Landing, fully immersive experience. I hope you packed your flash light for the camping trip, with a FULL Moon you may not need one, but then you may not make it out alive. Werewolves are around every corner, wreaking havoc on the neighboring campers. Try to run for help but you might just want to run!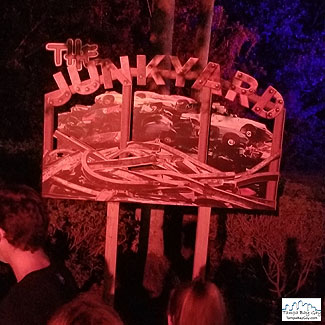 The Junk Yard, it's late, the junk yard is closed. Are you brave enough to walk through? During the day you can get the car or part you are looking for a leave, but at night this place turns into an infestation of fear. I see movement in dark corners and creepy cries coming from all directions. Abandoned cars may be our only shelter. This reminded me of being in a cemetery at night alone or with a small group of friends. Walk through as quickly and quietly as possible, maybe the deadly residents will miss your presence.

Finally, Deadly Toys, the last but certainly not the least scary. There is just something about old dolls and toys that can just be terrifying. This is another area where they use the natural environment against you. At a distance, I could see this odd looking doll perched off to the side, looking almost like a prop, but with every movement closer it looked as if it was following me. The doll's head is moving with my every move, just the head. I stepped forward just a few feet to get a closer look and then the doll disappears into the darkness and trees.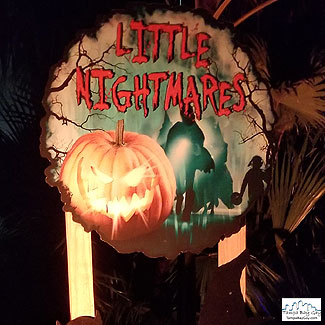 As a Bonus, the Little Nightmares section is a must visit. I am not going to describe it to you, just go and enjoy a nice stroll, stop and look at the sleeping Flamingo's. My only advice is, do not carry a drink with you. You will probably spill it or drop it while you are running.

Another modification to this year's event is the FIENDS Show. This year it is outside at the Festival Field Stage. There is plenty of seating and lots of space. As noted earlier, there is a VIP seating area with a drink included. The show includes Dr. Freakenstein's traditional line up of his spooky friends, always a great show. Not always for the young ones. Content is a little more mature audience driven so please just keep that in mind of you are attending with smaller children. Howl-O-Scream in general is intended for mature audiences.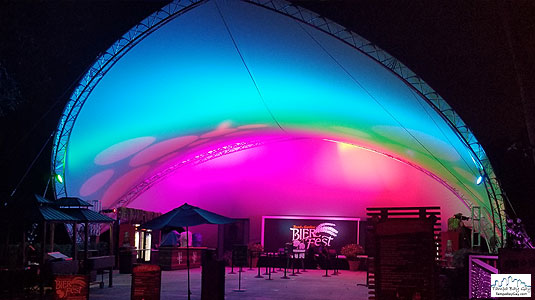 One thing that is returning this year is the Drink and Food Specials. In fact, there are multiple areas in the park with different offerings. There are some drink choices including some Craft beers, specialty spooky cocktails and shots from the helpful nurses. If you are looking for food or a snack there are some new options to check out including the taco's at the Dia De Los Muertos area. I would like to suggest you take a peek at the specialty cupcakes, the flavors are not what you would expect. I purchased the variety pack and I assure you it was NOT a scary purchase, delicious.

If you are looking for some Howl-O-Scream merch, they will not disappoint. There are T-shirts, a collectors throw (offered at a discounted price w/ purchase), shot classes, Halloween themed masks, mugs and more. I really like the themed masks. They are fairly priced, good quality and a fun way to be a little festive.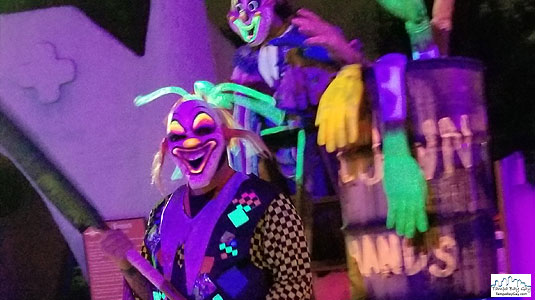 Lastly, since we are in a Pandemic and everyone has been making adjustments to the way we safely do things, I felt it best to add a small little section about how safe I felt during this event. I can tell you from the time that I stepped out of the car and head to the tram station; I had access to hand sanitizer. The tram is seated with social distance considerations and the trams are sanitized multiple times a night. Exiting the tram it was time for the temperature check, not invasive at all, simply walk through. If you need a disposable mask or sanitizer, there is some available.

Once in the park there are plenty of stations throughout the park. I did come across one empty bottle and asked a team member where the closest one was and it was just a few feet away. I can walk away saying that I felt very safe during my visit.

Even when I was eating and drinking, I was able to take my mask off and felt at a safe distance from other visitors. One addition that I would like to highlight is that there are a few designated areas for anyone that may need to take a MASK break. In these areas with respected distance to others you can sit down mask free. I really like this idea, especially in the Florida heat. They are promoting safety but conscience of guests needs too.

Overall, it was a really good time. Even with the modifications, it really set the Halloween mood. I highly recommend checking out this year's event. We have shared some of the pictures that we took in this article but we will be posting more pictures and video from our visit on our INSTAGRAM page (@RealTampaBayGay) next week, please check it out and follow us there.

Thanks to the Busch Garden's Howl-O-Scream staff for having us out to enjoy this year's event. If you are interested in purchasing tickets, making reservations, or upgrading your tickets check out the link below.
Make Reservations,Purchase Tickets and Upgrades Here: https://buschgardens.com/tampa/events/howl-o-scream/reservations/

More Info on Howl-O-Scream and Busch Gardens Tampa Bay please visit:
https://buschgardens.com/tampa/events/howl-o-scream/