Tampa Bay Gay's Favorites List is below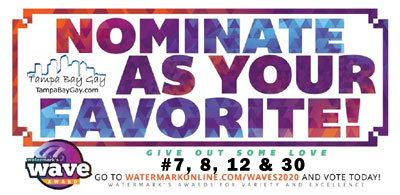 Watermark Awards for Variety and Excellence, best known in these parts as the WAVE Awards, look to award the best in both the Central Florida and the Tampa Bay area LGBTQ community in the realms of activism, service, fun and more.
2020 Tampa ay WAVE NOMINATIONS LINK: http://www.watermarkonline.com/2020/01/02/waves2020-tb/

We are asking that you please Nominate Us "Tampa Bay Gay" in 4 Categories (You must answer 15 categories to count):
#7. Favorite local writer/journalist? Dave Borman (Editor of TampaBayGay.com)

#8. Favorite local website? TampaBayGay.com

#12. Favorite locally-owned business: Not a Bar/Club? (Over one year old) Tampa Bay Gay

#30. Favorite Local Photographer? Tampa Bay Gay

Tampa Bay Gay's 2020 List
1. FAVORITE LOCAL POLITICIAN
Jane Castor

5. MOST EFFECTIVE LOCAL NON-PROFIT ORGANIZATION
Metro Inclusive Health

6. FAVORITE LOCAL SPORTS LEAGUE/ORGANIZATION
Pride Bowling Night Dunedin Lanes

7. FAVORITE LOCAL WRITER/JOURNALIST
Dave Borman

8. FAVORITE LOCAL WEBSITE
Tampa Bay Gay

10. FAVORITE FUNDRAISING EVENT
PRIDE ZOO LA or Red & Green

11. MOST PRIDEFUL LOCAL EVENT
St Pete Pride, Tampa Pride or Pasco Pride

12. FAVORITE LOCALLY-OWNED BUSINESS NOT A BAR/CLUB (OVER ONE YEAR OLD)
Tampa Bay Gay

14. FAVORITE LOCAL HEALTH CARE FACILITY
Optimized Health & Wellness, Diversity Health Center of Tampa Bay, or Weight Success Centers, LLC

15. FAVORITE LOCALLY-OWNED HAIR SALON
Sandy's Hair Studio & Spa

16. FAVORITE LOCALLY-OWNED SPA
Sandy's Hair Studio & Spa

17. FAVORITE LOCALLY-OWNED FITNESS CENTER
Planet Fitness

18. FAVORITE LOCAL VETERINARIAN CLINIC
Animal Health Care Clinic on Drew St. Clearwater

19. FAVORITE PLACE TO PAMPER YOUR PET
Barkbox.com

20. FAVORITE LOCAL REALTOR
Kizer Real Estate Group

21. FAVORITE PLACE TO BUY A CAR
Sun Toyota


22. FAVORITE LOCAL SHOPPING/ENTERTAINMENT DISTRICT
GAYBOR

25. FAVORITE LOCAL FAITH-BASED ESTABLISHMENT
HOLY TRINITY Episcopal Church, St.Paul's Lutheran Church, Christ The Cornerstone Church, Holy Spirit Synodal Catholic Church or King of Peace MCC

27. FAVORITE LOCAL MUSEUM OR GALLERY
St Pete Fine Arts Museum

29. FAVORITE LOCAL ARTIST
Cole Foust

30. FAVORITE LOCAL PHOTOGRAPHER
Tampa Bay Gay

31. FAVORITE LOCALLY-OWNED RESTAURANT
Our Place Dunedin

32. FAVORITE LOCAL BRUNCH
Hamburger Mary's Clearwater

37. FAVORITE LOCALLY-OWNED ALLIED CLUB/BAR
Sage the World Hookah & Lounge, Clearwater

39. FAVORITE LOCAL KARAOKE, TRIVIA OR BINGO NIGHT (INCLUDE HOST(S), EVENT & LOCATION)
Drag Queen Bingo Traila Parks BLUR Dunedin

45. FAVORITE LOCAL RADIO SHOW
Drew Garabo Live 102.5

46. FAVORITE LOCAL PERFORMING ARTS VENUE
Jobsite Theater

47. FAVORITE LOCAL THEATRICAL SHOW
Tampa FRINGE Festival

50. WHAT ARE THE PLACES WE SAID GOODBYE TO IN 2019 THAT YOU WILL MISS?
Flamingo Resort - Please share your reply with #TampaBayGay
Very Important info from WATERMARK:
There are under 50 questions. For your ballot to count, you must answer a minimum of 15 categories. We will tally these results and then the top three will move onto a Finalist Round (Finals start 1/24/2020), where to 2020 WAVE Award winners will be selected.

At the end, we ask you for your email address - this is just to verify your ballot. We will not sell or share your information...

VOTE FOR YOUR FAVORITES NOW:
CLICK ON BANNER BELOW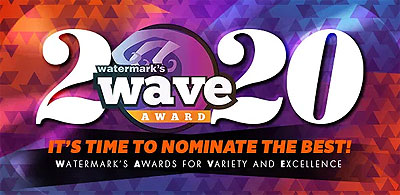 NOMINATIONS NOW OPEN
After the results have been tallied up; the next round begins Jan. 24, 2020 with the Top 3 from each category.

VOTE VIA MOBILE PHONE: https://www.surveymonkey.com/r/VHQLDXW
So again, we please ask that you go and vote for Tampa Bay's best…the WAVE Awards.
WATERMARK Magazine is an important Florida State PRINT publication highlighting our LGBTQ Communities.
Help out your local business and VOTE for them too. Keep LBGTQ Business and Small Business growing in Tampa Bay.

Thank you Tampa Bay!!
Tampa Bay Gay
http://www.tampabaygay.com

#Awards #Tampa #TampaBay #TBGay #2020, #LGBTQ #watermark #WatermarkAwardsforVarietyandExcellence #WAVEAwards