We're almost grown up!



Jobsite Celebrates 20 Years!

Tampa, FL
Jobsite Theater celebrates 20 years with a season that honors their past while looking to the future,keeping their head in the stars with their feet planted firmly on the ground. Itre-embracesthe plucky ensemble spirit that defined the company's earliest steps and cemented them as an important addition to the Tampa Bay area arts and culture scene. Jobsite is the proud resident theater company of the Straz Center.

Jobsite Theater's 20th Anniversary Season:
(all take place in the Shimberg Playhouse)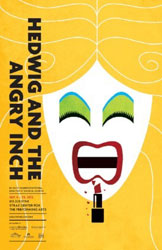 HEDWIGAND THE ANGRY INCH
BY JOHN CAMERON MITCHELL AND STEVEN TRASK
AUG 17-SEP 9, 2018
The gold glitter standard of queerglam rocker musicals, Hedwigand the Angry Inch follows German immigrant-turned-transgender-Kansas-trailer-park-wannabe-rock-goddess Hedwig Robinson during one life-changing night of her musical act. Full of TMI, towering go-go boots and cult hits "Exquisite Corpse," "Wig in a Box," "Tear Me Down" and more, this campy romp reveals the blistering realities of self-acceptance that defy gender identity.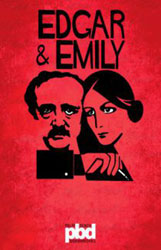 EDGAR & EMILY
BY JOSEPH MCDONOUGH
OCT 12-NOV 4, 2018
In January 1864, reclusive poet Emily Dickinson receives a surprise guest: Edgar Allan Poe. Although Poe died 15 years prior, he arrives quite alive and just as energized by death as ever before—one could say death kindly stopped for Emily, after all. Though the eveningpits the pendulum of both poets' personalities against the other in this comic fantasia, Emily and Edgar find they have a lot in common despite their differences. The heart tells the tale, you know.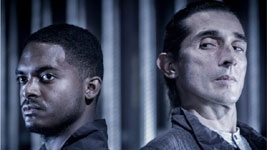 Picture: 2013's Macbeth
OTHELLO
BY WILLIAM SHAKESPEARE
JAN 11-FEB 3, 2019
Backstabbing politicians, two-faced frenemies, gaslighting, treachery, true love and thenever-ending cultural complications of a "black ram tupping a white ewe," Shakespeare's Othello might as well be talking about this year's headlines. And in this production, it does. Othello features Jobsite's signature modern spin on a favorite Shakespeare play.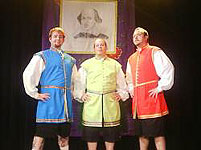 Picture: 2005 production featuring Jenkins, Jason Evans (center), and Paonessa
THE COMPLETE WORKS OF WILLIAM SHAKESPEARE (ABRIDGED) [revised]
BY ADAM LONG, DANIEL SINGER & JESS WINFIELD
MAR 15-APR 7, 2019
The unholy drought is over. The Complete Works of William Shakespeare (Abridged)returns (now [revised]) after a (much too long) 14-year absence. The fine folks from Reduced Shakespeare Company squished all 37 plays plus a few sonnets to boot into a 90-minute time-lapse performance of Some of the Greatest Theatre of All Time. This season, Jobsite dusts off the Chuck Taylors, dons the doublets and delivers a fair number of pratfalls, terrible puns, mis-readings and madcap capers for this chaotic, comprehensive dash through The Bard's greatest hits.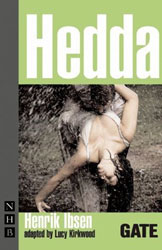 HEDDA
ADAPTED BY LUCY KIRKWOOD FROM THE PLAY BY HENRIK IBSEN
MAY 10-JUNE 2, 2019
Hedda, still mourning the father she adored, returns from her honeymoon with a husband she doesn't love, to a flat they can't afford and a pregnancy she doesn't want. Trapped by her past and terrified by her future, bored by her life but too cowardly to walk away from it, she finds herself caught between three men. Ultimately, something has to give. In this updated version of Ibsen's classic, set in 21st-century Notting Hill, thrilling young British playwright Lucy Kirkwood reworks the Hedda Gabler tale into a daring glimpse at her choices from a woman's point of view.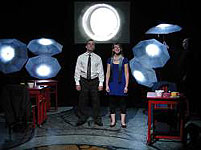 Picture: from Dead Man's Cell Phone
CONSTELLATIONS
BY NICK PAYNE
JUL 12-AUG 4, 2019
What if every decision we've made—and not made—exists simultaneously in infinite parallel universes? So goes this bracing, glorious love story of Marianne and Roland, an urban beekeeper and a physicist, whose myriad possibilities unfold in sumptuous arcs and trajectories that challenge the distinction between choice and destiny. Nick Payne's critically-acclaimed triumph melds science and romance into Constellations, a play that comes along every so often to disrupt our notion of what can be done in theater and what it means to be alive and in love.