ROCA Productions Presents Festival of Wreaths at Quench!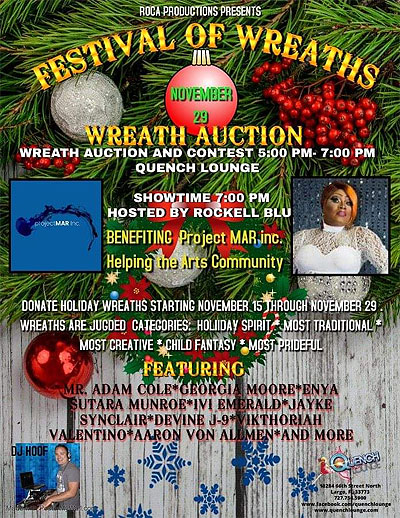 ***Masks are required for this event, NO EXCEPTIONS***
Donate "Holiday Wreaths" starting November 15, 2020 through November 29, 2020, to be on display at Quench Lounge, 13284 66th St N., Largo, FL, 33773 (Directions/Map).

Facebook Event Page: https://fb.me/e/1PQMpwuih

Wreath donations can come from individuals or businesses and will be judged as well as, participate in the silent auction. Winners will be announced during the show. This fundraising event will benefit Project MAR Inc., helping out the Arts in the community. It's time to get creative!

Wreath Categories:
Holiday Spirit
Most Traditional
Most Creative
Child Fantasy
Most Prideful
5:00pm - 7:00pm - Silent Auction and Contest

*Each bid must exceed the previous bid by $3.00 for small wreaths and $5.00 for large wreaths.
*All bids represent an obligation, if at the end of the auction you are high bidder; you are committed to purchasing said item.
*If you are not present you will be contacted by phone or email within 24 hours.
*Please do not bid if you cannot meet the obligation.
*All sales of wreaths are final. No exchanges or refunds are permitted.
*Everything is sold "as is" and has no cash value.

7:00pm - Showtime with you hostess Rockell Blu

Featuring Performances by: Closet Ball 2021's Adam Cole Arnoldd, Georgia Moore, Enya Sutara Monroe, Ivy Emerald, Connar Liam, Devine J-9, Vikthoriah Valentino, Aaron W von Allmen, Alyssa and guests.

Contact Robert Rigsby for more information at Vshowboy79@hotmail.com or DM on Facebook.

Project MAR Inc.. is a 501(c)3 organization that was created for charitable and educational purposes; to provide a platform for creative education, inspiration and collaboration; and, more specifically, to be an advocate for the performing arts.

Project MAR Inc. will offer a scholarship program that will assist performance artists and/or lower income performing arts students within the community. The purpose of Project MAR Inc. is to promote Performing Arts to enhance human connection and community through scholarships and financial assistance to performing artists, professional and up-and-coming. This is our primary activity.

Facebook Event Page: https://fb.me/e/1PQMpwuih

Build A Wreath Happy Hour: November 21 at Quench Lounge- Build A Wreath Happy Hour.
Bring any supplies you may need to create you very own wreath.