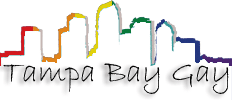 Voted Best Gay Website in
the Tampa Bay Area
LOCAL DIGITAL
EVENT

DaVinciís Digital Days
-
Saturday, September 26 at 9p.
We are celebrating 6 months with a very special show & surprise guests.
Rockell Blu, Mya Valentine Lords, Alyssa Hailey Walker, Russell Mania Georgia, Salma Love Taylor , Stratosphere & Kirk T. DaVinci
. Remember to
TIP
(not required but appreciated) our entertainers.
Every Saturday Night on FACEBOOK.