LOS ANGELES COUPLE CROSS CULTURAL AND RELIGIOUS DIVIDES TO BRING THEIR SPECIAL LOVE TO UPCOMING WEB TV SHOW "THE WEDDING PARTY"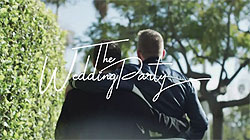 Brian and Trevor will marry in Denver, CO with nine other couples
at The Wedding Party on September 1, 2019
Los Angeles, Calif.
At a time when diversity and inclusion are increasingly valued, in a city where encouraging individuality is especially prized and LGBQT personalities shine in business and creativity, West Hollywood couple Brian Hodge and Trevor Bashein have found their own way to stand out from the crowd.

Chosen as one of the 10 couples to be married on the new streaming show "The Wedding Party," hosted by The Bachelor's Ben Higgins, Brian and Trevor are proud to share their special partnership and commitment to a life together with an audience of millions in a non-traditional ceremony that celebrates love and marriage in all its forms. They are the only gay male couple to feature on the debut series of the show, which culminates in a wedding festival where 2,000 guests will watch the couples say, "I do."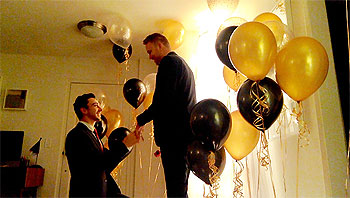 Above:
Brian Hodge and Trevor Bashein – The Proposal
It's especially bold for Brian and Trevor to make their union so public given they each come from traditional backgrounds in vastly different hometowns and different countries. They are definitely not your conventional couple. Brian is a 38-year-old country boy from the rural town of Wagga Wagga in New South Wales, Australia and Trevor is a 24-year old Mormon from Provo, Utah.

Brian had a stable, non-denominational childhood in his hometown before launching his career in Sydney, taking on the role of Director of Entertainment at the prestigious Jupiter's Casino on the glamorous Queensland Gold Coast, and moving to Los Angeles in January 2013. Trevor was an "army brat," moving from city to city throughout his childhood, spending much of that time in Leavenworth, Kansas before his family settled in Utah, where he commenced his college degree.

What amazed both men once they met and began their relationship was how striking the links and similarities were underneath those superficial differences.

They met by chance in Las Vegas in early 2018. Brian was there for work and Trevor was in town for a vacation. Their connection started with conversations surrounding Brian's career in Event Marketing and Trevor's upcoming graduation with a marketing degree. After heading back to their respective cities they continued to talk. They soon found out that their hometowns – Wagga Wagga, NSW and Leavenworth, KS – are official "Sister Cities." Brian went to school on Leavenworth Drive in Wagga Wagga and Trevor had lived off Wagga Wagga Drive in Leavenworth!

A few weeks after meeting, Brian flew to Salt Lake City to visit Trevor. Multiple visits later, including weekends away together in Park City, New York, and Los Angeles, they were sure they were soul mates for life. Trevor moved to Los Angeles in mid-2018 to live with Brian and his puppy Willis in West Hollywood.

This once in a lifetime connection and the message of love across great divides is what they are excited to show to the world. Their families and friends will be flying in from all over the U.S. Australia, Europe, Asia and the United Kingdom to join Brian, Trevor and the other couples in Denver, Colorado on September 1, 2019.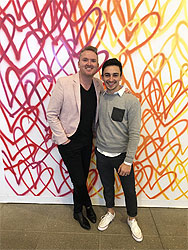 Above:
Brian Hodge and Trevor Bashein
On their way to the altar, Brian and Trevor will feature throughout the series of "The Wedding Party" to be streamed on YouTube, premiering in June 2019.

Brian and Trevor say, "We are excited that we have we have decided to skip the 'traditional' wedding and share our special day with nine other couples, straight, gay, bi-racial, multi-cultural, and without regard to religion, as part of 'The Wedding Party.' We want to celebrate love in a different way, a way where everyone is equal, welcomed, embraced, loved and supported regardless of their beliefs."
The Wedding Party, Episode #1 | #TheWeddingParty


Brian and Trevor's Proposal and Engagement video

Brian and Trevor on The Wedding Party website

The Wedding Party YouTube Channel

The Wedding Party on Instagram

ABOUT THE WEDDING PARTY
The festival that says, "We Do!"
Imagine standing beside your partner in a beautiful ceremony of love and loyalty in front of your family and friends—and about 2000 other people—all there to celebrate your pledge to each other. In the era of food halls and co-working spaces, collaboration is becoming, more and more, the name of the game. The "Millennial Generation" isn't racing to accumulate homes or cars—they're shunning the norms for the new and placing value on experience over possession. The Wedding Party is a festival designed to speak to this shifting paradigm. The Wedding Party strips away the exploitatively expensive, stressful, often tired ritual of the marriage experience, providing a memorable alternative in the form of a shared, blown-out shindig like no other.
The Wedding Party preview video