Ria Mae Releases "Hold Me"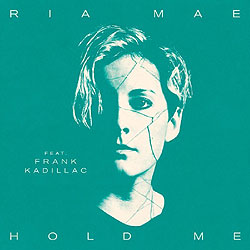 Ria Mae - Hold Me (Audio) ft. Frank Kadillac


Ria Mae releases the heartfelt and candid single "Hold Me" feat. Frank Kadillac. "Hold Me" was written by Ria in Nicaragua alongside Frank Kadillac of Neon Dreams, John Nathaniel, and Canadian singer and songwriter Lowell. The lyrics came from a conversation between Ria, Frank, and Lowell.

"We were sharing how lately we felt unsure of how to engage online and remain positive in the current social climate," says Ria. "We were talking about how easy life used to feel when we were young and how anxious a lot of our peers seem to be right now. The song is just an honest depiction of how this year is making us feel."

That dialogue continues as a duet in the song among Ria and co-writer, friend, and collaborator Frank Kadillac. "Hold Me" was recorded in Ria's former hometown of Montreal with award-winning producer, songwriter and mixing engineer John Nathaniel.

"Hold Me" and the breakup anthem "It's You," released September 14, are available to stream and download on all digital service providers. Both tracks will be featured on her forthcoming EP, showcasing Ria's desire to push sonic and lyrical boundaries. "It's You" was produced by Grammy-nominated & ASCAP Award winning songwriter/producer, Scott Effman, and mixed by Les Cooper.
Ria's upcoming EP, set for release early next year, is a follow up to her JUNO nominated My Love. The EP's first single "Bend" became an instant hit, skyrocketing to Top 5 at Hot AC, Top 15 at AC, and Top 15 at CHR radio, reaching platinum certification status. Ria was nominated for "Pop Album of the Year" at the 2018 JUNO Awards for My Love. Two years earlier, Ria also earned a JUNO nomination for "Single of the Year" for her platinum-selling hit "Clothes Off" that has over 13 million streams worldwide.

Follow Ria Mae
https://www.facebook.com/riamaemusic
https://twitter.com/riaisawake
https://instagram.com/riaisawake/
http://www.vevo.com/artist/ria-mae
https://open.spotify.com/artist/3QvuHlyW42Ei3AyGOO4AMT