2018 OUTFEST LOS ANGELES
LGBT FILM FESTIVAL ANNOUNCES GALA SCREENINGS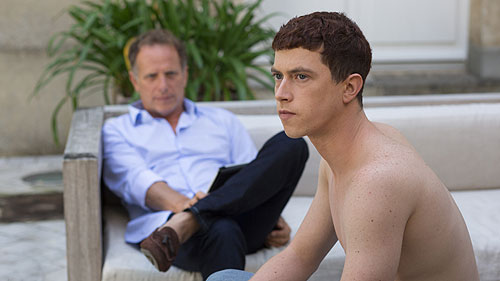 Reinventing Marvin
(International Centerpiece)
Writer-Director: Anne Fontaine
Martin Clement is about to give the performance of his life – his life story, that is, in an autobiographical stage play. As a child, young Marvin Bijoux was bullied by homophobic classmates at school and misunderstood by his often-neglectful parents, making him feel like a lonely outsider in his small rural French village. But when a kind school principal guides him to join the drama club, Marvin discovers his gifts for play-acting the misery that surrounds him. When he qualifies to attend a theatrical school, Marvin acts the role of the brash straight stud until he meets an older mentor who encourages him to acknowledge his sexuality and to exorcise his pain by putting it all on the stage.

This sweeping drama from director and co-writer Anne Fontaine (The Innocents, Coco Before Chanel) captures a life in the theater, as we see timid young Marvin (Jules Porier) blossom into adult Martin (Finnegan Oldfield, Nocturama) – with a little help along the way from Isabelle Huppert, playing herself. A moving tale of the past that many of us try to escape, but can never entirely leave behind, this film reminds us that no matter how far we get from our upbringing, a piece of it remains with us always.

ABOUT OUTFEST
Celebrating its 36th anniversary, Outfest was founded by UCLA students in 1982 who were looking for positive images of themselves in media. Today Outfest is the world's leading organization that promotes equality by creating, sharing, and protecting LGBTQ stories on the screen. Outfest builds community by connecting diverse populations to discover, discuss, and celebrate stories of LGBTQ lives. Over the past three decades, Outfest has showcased thousands of films from around the world, educated and mentored hundreds of emerging filmmakers, and protected more than 37,000 LGBTQ films and videos. Outfest Los Angeles LGBTQ Film Festival is 11 days of world-class films, panels, and parties.

ABOUT HBO
Home Box Office, Inc. is the premium television programming subsidiary of Time Warner Inc. and the world's most successful pay TV service, providing the two television services – HBO® and Cinemax® – to approximately 131 million subscribers worldwide. The services offer the popular subscription video-on-demand products HBO On Demand® and Cinemax On Demand®, as well as HBO GO® and MAX GO®, HD feeds and multiplex channels. HBO NOW®, the network's internet-only premium streaming service, provides audiences with instant access to HBO's acclaimed programming in the U.S. Internationally, HBO branded television networks, along with the subscription video-on-demand products HBO On Demand and HBO GO, bring HBO services to over 60 countries. HBO and Cinemax programming is sold into over 150 countries worldwide.