2018 OUTFEST LOS ANGELES
LGBT FILM FESTIVAL ANNOUNCES GALA SCREENINGS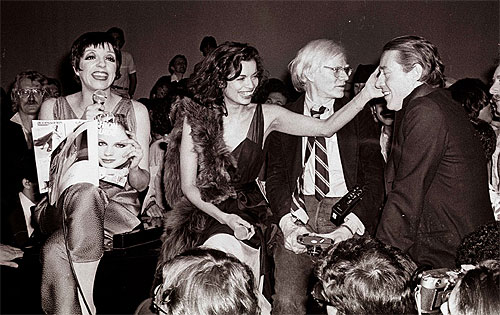 Liza Minelli, Bianca Jagger, Andy Warhol, and Halston at Studio 54.
Photographer: Adam Schull


Studio 54
(Opening Night Gala)
Director: Matt Tyrnauer
When disco was the epicenter of popular culture, Studio 54 was the epicenter of disco. Brooklyn-born college pals Steve Rubell and Ian Schrager took a former opera house and CBS studio (where "What's My Line?" and "Captain Kangaroo" filmed) in what was at the time one of New York City's sketchiest neighborhoods and turned it into a dance palace known the world over. Extroverted gay Rubell and introverted straight Schrager (the latter giving his most extensive interview to date about Studio 54) were a powerful team – but the swirl of sex, drugs, celebrity, and tax evasion brought this phenomenon to an end, as did the advent of Ronald Reagan, the AIDS crisis, and the "Disco Sucks" backlash.

But oh, what heady times there were during Studio 54's heyday, which this vibrant documentary captures, mixing vintage interviews (Michael Jackson!) with reminiscences from the doormen, bartenders, and paparazzi who experienced the thrills and the beats on the dance floor and in the infamous balcony. There may never again be such a stately pleasure dome as Studio 54, but Matt Tyrnauer's documentary pays homage to the hedonism, the hubris, and the outrageous delights that took place under the lights, behind the scenes, and on the other side of the velvet ropes.

ABOUT OUTFEST
Celebrating its 36th anniversary, Outfest was founded by UCLA students in 1982 who were looking for positive images of themselves in media. Today Outfest is the world's leading organization that promotes equality by creating, sharing, and protecting LGBTQ stories on the screen. Outfest builds community by connecting diverse populations to discover, discuss, and celebrate stories of LGBTQ lives. Over the past three decades, Outfest has showcased thousands of films from around the world, educated and mentored hundreds of emerging filmmakers, and protected more than 37,000 LGBTQ films and videos. Outfest Los Angeles LGBTQ Film Festival is 11 days of world-class films, panels, and parties.

ABOUT HBO
Home Box Office, Inc. is the premium television programming subsidiary of Time Warner Inc. and the world's most successful pay TV service, providing the two television services – HBO® and Cinemax® – to approximately 131 million subscribers worldwide. The services offer the popular subscription video-on-demand products HBO On Demand® and Cinemax On Demand®, as well as HBO GO® and MAX GO®, HD feeds and multiplex channels. HBO NOW®, the network's internet-only premium streaming service, provides audiences with instant access to HBO's acclaimed programming in the U.S. Internationally, HBO branded television networks, along with the subscription video-on-demand products HBO On Demand and HBO GO, bring HBO services to over 60 countries. HBO and Cinemax programming is sold into over 150 countries worldwide.