MAMMA MIA! HERE WE GO AGAIN THE MOVIE SOUNDTRACK
FROM CAPITOL RECORDS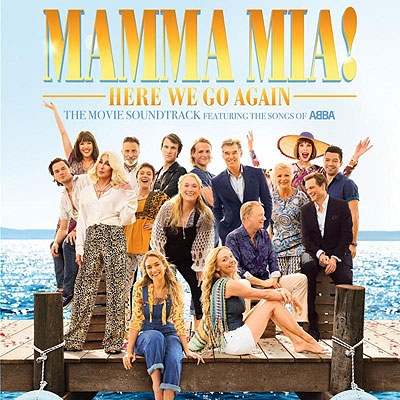 SET FOR JULY 13th RELEASE
PRE-ORDER NOW AVAILABLE INCLUDING A DOWNLOAD OF "WHEN I KISSED THE TEACHER"

"My nomination for the best ABBA track that wasn't a hit in the U.S.: When I Kissed the Teacher, a zestful number that recalls the teen passion of such Phil Spector productions as the Ronettes' Be My Baby."
- Robert Hilburn, Los Angeles Times
Capitol Records is pleased to announce the release of MAMMA MIA! HERE WE GO AGAIN The Movie Soundtrack this summer. The highly anticipated soundtrack will be released on July 13th, with the film following a week later. The soundtrack is available to pre-order HERE, with "When I Kissed the Teacher," sung by Lily James as Young Donna and her group, The Dynamos, available immediately upon pre-order.
I Kissed The Teacher (Lyric Video)


Ten years after Mamma Mia! The Movie grossed more than $600 million around the world, you are invited to return to the magical Greek island of Kalokairi in an all-new original musical based on the songs of ABBA. With the film's original cast returning and new additions including James and Academy Award® winner Cher, the musical comedy will open on July 20, 2018.
Mamma Mia! Here We Go Again - Final Trailer


Original ABBA member Benny Andersson produced and arranged the soundtrack. The song "When I Kissed the Teacher" remains a favorite for critics in a catalog of smashes by one of the best-selling artists of all time, the Rock and Roll® Hall of Fame and GRAMMY® Hall of Fame inductees ABBA. The Telegraph lists the song as one of ABBA's hidden gems, offering it as an alternative to "Waterloo." The Los Angeles Times said "'When I Kissed the Teacher' is the most convincing thing ABBA has done because it injects some sly, mocking humor and passion that offsets the group seriousness."

MAMMA MIA! HERE WE GO AGAIN will see Meryl Streep, Amanda Seyfried, Pierce Brosnan, Colin Firth and Julie Walters reprising their roles from MAMMA MIA! The Movie. Christine Baranski, Stellan Skarsgård, Dominic Cooper, Jeremy Irvine, Hugh Skinner, Josh Dylan, Jessica Keenan Wynn and Alexa Davies complete the cast.

MAMMA MIA! The Movie, released in 2008, also based on the songs of ABBA, is one of the highest-grossing live-action musicals of all time. Its companion soundtrack sold 1.5 million copies in the UK and achieved global sales of over 7.7 million. Almost a decade since its release, its popularity has not waned. There have been 406 million combined streams of MAMMA MIA! The Movie Soundtrack. ABBA are one of the most successful pop groups of all time. The Swedish quartet have sold over 385 million albums worldwide, and their songs have been streamed over 2.8 billion times. The release of MAMMA MIA! The Movie prompted a surge in sales for ABBA, whose hit compilation ABBA Gold went back to Number One in the albums charts some 16 years after its original release.

http://www.mammamiamovie.com