HAYLEY KIYOKO COMMANDS YOUR ATTENTION ON POWERFUL NEW SMASH "CURIOUS"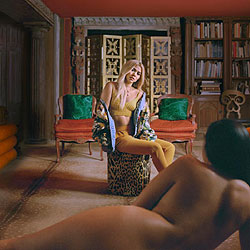 BREAKTHROUGH POP ARTIST PREMIERES FIRST OFFICIAL SINGLE AND VIDEO FROM HIGHLY ANTICIPATED DEBUT LP EXPECTATIONS ON MTV'S TOTAL REQUEST LIVE

PERFORMING AT COACHELLA ON SUNDAY, APRIL 15TH AND SUNDAY, APRIL 22ND
Atlantic recording artist Hayley Kiyoko has released her new song "Curious," the first official single from her highly anticipated debut album EXPECTATIONS. "Curious" is available now via all digital music retailers and streaming services. Download/Stream HERE.

"I'm so excited to launch my debut album with "Curious," says Kiyoko. "This song is all about self-respect and knowing when to walk away when someone you care about is playing games. The treatment I came up with for the video helps gets that point across in a fun and tongue-in-cheek way. I hope people connect with it and can't wait for everyone to see it!"
Hayley Kiyoko - Curious [Official Video]


Hayley went on MTV's Total Request Live to premiere the brand new single with a stunning music video that showcases Hayley's confidently slick dance moves and chronicles steamy flirtations, on her official YouTube channel HERE. Hayley also announced the release date for her debut album EXPECTATIONS, which arrives everywhere on March 30th and is available now for pre-order HERE. Hayley's frequent collaborators, Jono Dorr and Cecil Bernardy (The Neighbourhood) executive produced EXPECTATIONS alongside her.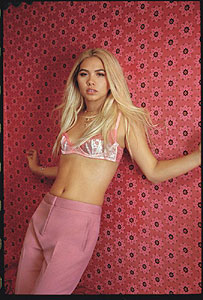 Photo Credit: Amanda Charchian
The release of "Curious," which will immediately ship to Pop and Hot AC radio formats nationwide, officially ushers in what's bound to be another stellar year for the rising pop artist. Billboard already cited "high expectations," for Kiyoko writing, "At this point, Hayley Kiyoko's ascension to Billboard Hot 100 domination seems inevitable... the sapphic starlet is poised to have a promising debut with her debut solo album." Towards the end of 2017, Hayley unveiled her catchy track "Feelings" along with the self-directed music video which BuzzFeed instantly praised for its "unapologetic, real, and honest representation." Watch the visual, which has gone on to amass nearly 6 million views on YouTube and captures all of the "feelings" associated with a budding romance, HERE.

In the fall of 2016, the multi-talented singer, songwriter, director and actress, featured as one of Rolling Stone's "10 New Artists You Need To Know," released her major-label debut EP CITRINE, which reached the top 5 on Billboard's "Heatseekers" chart and included the acclaimed singles and self-directed companion visuals, "One Bad Night" and "Gravel To Tempo." Hayley went on to celebrate CITRINE by launching the first leg of her nationwide "One Bad Night Tour." The completely sold-out headline tour saw Hayley performing her new music for her passionate and devoted fans in multiple cities throughout the US. According to Baeble, "Hayley Kiyoko's music acts as a safe space for the LGBTQ community." Last spring, just before embarking upon the second leg of her "One Bad Night Tour," which included a stop at NYC's famed Bowery Ballroom in addition to performances down in Austin at SXSW, Hayley unleashed another self-directed video for her song "Sleepover," which arrived amidst widespread media attention from outlets such as Pop Crush, which highly praised the single as "a poignant piece of pro-LGBTQ art... set against a hazy, humid electronic soundscape of drowsy mid-tempo beats and flickering guitar twinkles." To date, Hayley's self-directed music videos have collectively amassed over 140 million views on YouTube.

This spring, Hayley will herald the release of her debut full-length with performances at Indio, CA's Coachella Valley Music & Arts Festival, set for Sunday, April 15th and Sunday, April 22nd. For additional information and updates please visit www.hayleykiyokoofficial.com.

LISTEN TO "CURIOUS" HERE
WATCH THE VIDEO HERE
PRE-ORDER EXPECTATIONS HERE

Connect:
http://hayleykiyokoofficial.com
http://facebook.com/hayleykiyoko
http://twitter.com/hayleykiyoko
http://twitter.com/hayleykiyoko
https://www.youtube.com/user/TheHayleyKiyokoVEVO