Historic WWII Ship Moves to Sparkman Wharf, Showcasing
UNDead in the Water Haunted Attraction throughout September and October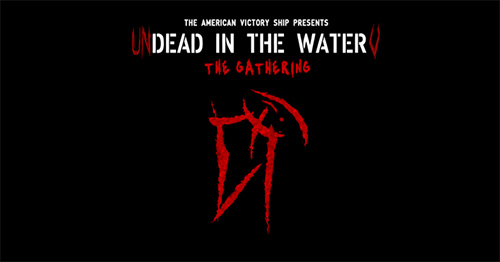 TAMPA, FLORIDA.
The restored WWII American Victory Ship shifted from its home berth behind the Florida Aquarium to Sparkman Wharf, where it will operate daily through September and October. The museum ship that formerly served in WWII, Korea, and Vietnam welcomes visitors for daily tours of the entire ship including cargo holds, engine room spaces, the wheelhouse, and nine total decks to explore. At night, the ship transforms into UNDead in the Water, Tampa's premier nautical haunted attraction.

The haunted attraction operates September 23, 24, 30, and October 1, 7, 8, 14, 15, 21, 22, 27, 28, 29.

In the fifth iteration of UNDead in the Water, a mysterious female apparition and her possessed cult threaten passengers across 60,000 square feet of cavernous cargo holds and open-air decks. Flesh of the fallen adorn the bulkheads and passageways as you make your way through the forsaken vessel. Of the crew that survived, some have entered into the ranks of The Gathering, while the remaining are on the run from her cult, their screams and moans echoing throughout the bellows of the ship. Will you be chosen for sacrifice? Or will you join the ranks of The Gathering?
UNDead in the Water V: The Gathering

The attraction features live scare actors and thrilling special effects through a nail-biting path aboard the ship, and is recommended for ages 11 and up.

Dates, details, as well as tickets are available at www.undeadinthewater.com.
Capacity is limited, and advance purchase for specific time slots is required.

Joining the American Victory team in production for UNDead in the Water are CineView Studios, Practical Imagination, and Scott Swenson Creative Development. During this process, Port Tampa Bay has been incredibly generous with helping the American Victory move to Cruise Terminal 2, as well as with logistics and engineering. All funds raised from UNDead in the Water benefit the restoration and operation of the American Victory Ship and Museum, a 501c3 nonprofit organization dedicated to community service.
Facebook
Instagram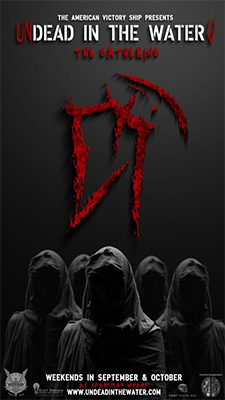 Tickets are available:
www.undeadinthewater.com
About the American Victory Ship and Museum:
Built in 1945, the SS American Victory voyaged around the world delivering crucial cargo during World War II, Korea and Vietnam. Today, the ship is one of only five World War II merchant steamships in the U.S. The SS American Victory provides daily educational tours, serves as a training site for firefighters, law enforcement officers, active and reserve military and working dogs, hosts special events, and benefits from memberships, donations and corporate sponsorships.

Since the SS American Victory arrived in Tampa in September 1999, dedicated volunteers have invested over 1,000,000 hours to restore, maintain and operate the vessel. The organization relies heavily on private donations, grassroots efforts, and sincere dedication from its group of committed volunteers. The American Victory Ship and Museum is a nonprofit 501c3 organization and recognized in the National Register of Historic Places. The ship is located in the Water Street District, directly behind The Florida Aquarium (SPARKMANS WARF for this event).

For more information, please visit www.americanvictory.org