3rd Annual Transgender Film Festival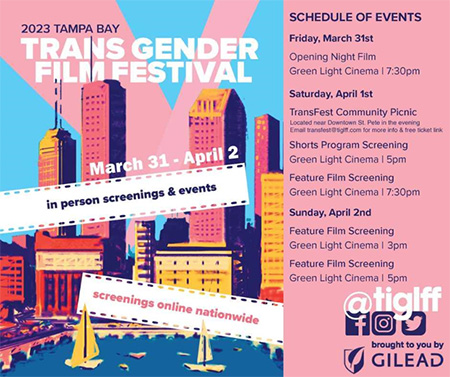 The Tampa Bay Transgender Film Festival is a space grounded in and centered around the transgender community, support those in film who support our community, and share these films with our community and allies. The festival was founded as a collaboration between the Tampa Bay International Gay & Lesbian Film Festival (TIGLFF) and St. Pete Pride in 2020 and was tied to the Transgender Day of Remembrance.

In 2021, TIGLFF solely hosted the festival with the Transgender Day of Remembrance.

For our 3rd Annual Edition TIGLFF decided to move the festival to March 2023 for the Transgender Day of Visibility on March 31st.
Film Screenings

March 31st
You're Loved | 7:30PM

April 1st
Trans+ Shorts Program | 5PM
The Empress of Vancouver | 7:30PM

April 2nd
Who Owns The Sky | 3PM
With Me They Can't | 5PM

All Film Screenings will be held at:
Green Light Cinema, 221 2nd Ave N, St. Petersburg, FL 33701 (Directions/Map)

Elevating Events

March 31st
Opening Night Reception, Location & Time TBA

April 1st
TransFest Community Picnic
Free w/ RSVP
Downtown St Pete in the PM Bring your own blanket (or chairs) and food.
Enjoy music, art vendors, field games, & community.

For community safety purposes, the location & time of the picnic is being held CONFIDENTIAL & only shared with individuals who have RSVP'd.
To grab your spot, email transfest@tiglff.com for the ticketing link.
Virtual Screenings will launch with national access on April 1st, 2023 at midnight, and all films will remain accessible to purchase through April 2nd, 2023 at 11:59pm.

Festival Schedule: https://transfilmfest.eventive.org/schedule

Passes/Tickets: $20.00 In-Person All Access or $8.00 Virtual Ticket Access

Purchase Passes/Tickets: https://transfilmfest.eventive.org/passes/buy

More Info on Event: https://transfilmfest.eventive.org/welcome

More Info on TIGLFF: https://tiglff.com/