A-List Monthly Film Series - August 2022


This month's Community Programmer is former Miss Florida F.I. and Local Entertainer Stephanie Shippae. Stephanie's pick is Kinky Boots. Please join us for a great film, great time, and a great sense of community.
Kinky Boots 2005 Official Trailer 1

Charlie Price grew up with his father in the family shoe business, but he never thought he'd take his father's place. After his father's untimely death Charlie learns that Price and Sons Shoes is failing. While in despair at his failed attempts to save the business, Charlie has a chance encounter with flamboyant drag queen cabaret singer Lola. Hearing her complaints about the inadequate footwear for her work and the suggestion of one of his ex-employees–Lauren–Charlie makes a bid to save the business by making men's fetish footwear and convincing Lola to be the company's footwear designer.

IN-PERSON EVENT ONLY
Sunday, August 21st, 3:00pm

Location: Green Light Cinema, 221 2nd Ave N, St. Petersburg, FL 33701 (Directions/Map)

Tickets: $11.77/pp includes taxes and fees
(Student and Senior Discounts Available)

Purchase Tickets Here: https://ticketing.useast.veezi.com/purchase/1178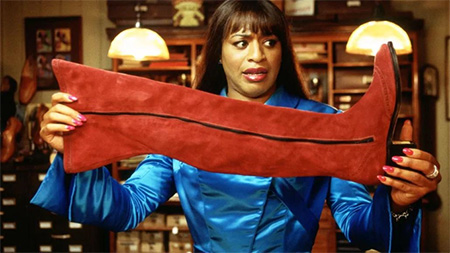 The Festival is a 501(c)(3) Not-for-Profit.
Your purchase of a ticket pays for the licensing of the film, venue & streaming costs, and
Our Mission of the Festival to Entertain, Empower, and Enlighten.