THE CUT, is a drag competition open to all forms and genders of impersonation. Two rounds of competition will be judged by two judges, and if you make THE CUT, the winner will be chosen by audience applause.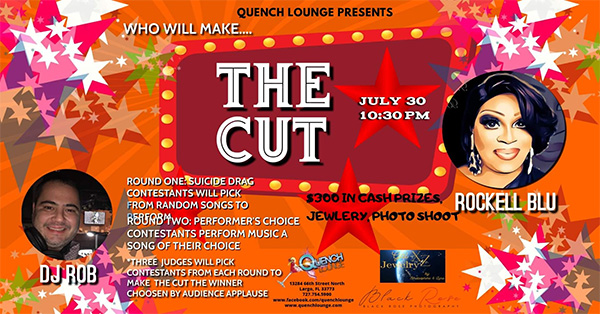 ROUND ONE:
SUICIDE DRAG - CONTESTANTS WILL PICK FROM RANDOM SONGS TO PERFORM

ROUND TWO:
PERFORMER'S CHOICE - CONTESTANTS PERFORM MUSIC A SONG OF THEIR CHOICE

*THREE JUDGES WILL PICK CONTESTANTS FROM EACH ROUND TO MAKE THE CUT

THE WINNER CHOOSEN BY AUDIENCE APPLAUSE

Location: Quench Lounge, 13284 66th St N., Largo, FL 33773 (Directions & Map)

Hosted by: Rockell Blu

Date & Time:
Saturday, Juky 30, 2022
Showtime 10:30 PM
Sign up begins at 9:00 PM

Prizes: $300.00 in Cash Prizes, Jewlery, and Photo Session with Black Rose Photograph.

Questions please message Robert Rigsby on Facebook.