Are you ready?
The Fringe is Back for 2021!



Get your tickets NOW!
It's that time of year again - time to FRINGE. The Tampa Fringe is July 29th - August 8th at the HCC Ybor Performing Arts Building and we are transforming the YPAB into a Magical Forest Grotto for all to enjoy.
14 different shows (some pictured below) and a free display of magical art from around the Bay!

Entry to the building requires a button - FREE with first ticket purchased, or is pay-what-you-can. Non-alcoholic refreshments available on site, or get a drink at one of the many nearby Ybor watering holes!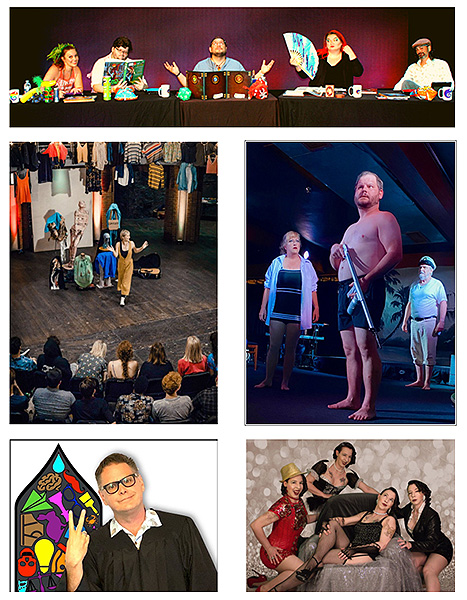 Planning to see multiple shows? Link to Full Schedule below!
We've got Packs and Passes On Sale.

That's right, if you are seeing more than one show (which we hope you are!), we've got our usual 3 Packs and 5 Packs of tickets available!

And If you are planning on seeing ALL 13 SHOWS we've got a pass for you - the covered Eliminator Pass!

FULL SCHEDULE: http://tampafringe.org/full-schedule/

PURCHASE TICKETS & MERCH: https://tampafringe.ticketleap.com/

Please note: After purchasing any of these you must still reserve tickets for individual performances by emailing us or at the Box Office during festival time. These options are good for one admission to each performance. If you are interested in arranging group tickets, this will be done on an individual basis by emailing us.

COVID19
At present we are not requiring masks in the building or limiting capacities, however:
• We highly recommend masks, especially if not vaccinated.
• Be respectful of those choosing to wear masks.
• Staff will be wearing masks unless socially distanced.
• Sanitizer and masks will be available.
• Mask requirements are subject to change depending on the recommendations of the CDC ,State. and with regard to current cases numbers.

See you at the fringe!

WEBSITE: http://tampafringe.org/