MAD Theatre of Tampa Presents
"The Prom," A Musical Celebrating Acceptance and Authenticity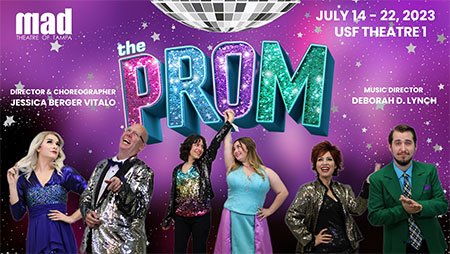 TAMPA, FLA
MAD Theatre of Tampa will be opening "The Prom," a musical that celebrates acceptance and authenticity even in challenging times. With its powerful message and energetic performances, "The Prom" promises to be the summer's biggest hit.

Inspired by a true story, "The Prom" follows a group of actors from New York who travel to Indiana to help a high school student whose school banned her from attending her prom because she wanted to bring her girlfriend as a date. The musical tackles important issues such as LGBTQ+ rights, prejudice, and the power of community support.

"MAD Theatre of Tampa is thrilled to bring this heartwarming, critically acclaimed musical to the Tampa community," said Anthony Gilkinson, Artistic Director and President of MAD Theatre of Tampa. "We hope that 'The Prom' will serve as a reminder that acceptance and love triumph over hate and narrow-mindedness."

The musical features a talented cast bringing to life a variety of memorable songs and dance numbers. With music by Matthew Sklar, lyrics by Chad Beguelin, and a book by Beguelin and Bob Martin, "The Prom" has been praised for its catchy music, humorous writing, and heartfelt performances.

Tickets are now on sale for "The Prom" at the University of South Florida's Theatre 1, July 14 through 22, 2023. https://madtheatreoftampa.ticketleap.com/t/EMAIL

MAD Theatre of Tampa would like to remind audiences that the show is recommended for ages 16 and older to ensure a safe and enjoyable experience for all patrons.

For more information about "The Prom" and MAD Theatre of Tampa's upcoming productions, visit their website at www.madtheatre.com.