Tampa Bay's premier Halloween event returns in a whole new way with the 21st annual Howl-O-Scream. This year's modified production will be unlike any other, including significantly enhanced safety and health measures at the core of the event. The event will be modified to feature open-air scare zones, limited-capacity admission with reservations required, and physical distancing.

Howl-O-Scream is a separately ticketed event, available during 18 horrifying nights at Busch Gardens beginning Sept. 25 – Nov. 1, 2020, every Friday through Sunday. Prices Starting at $29.99

Make Reservations & Purchase Tickets here: https://buschgardens.com/tampa/events/howl-o-scream/reservations/

To help maintain physical distancing during the event, advance online reservations will be required. Guests are strongly encouraged to make reservations early, as space is limited. Protective face coverings will be required. Learn more about our health and safety guidelines here.
New Spacious, Outdoor Experience
FIENDS SHOW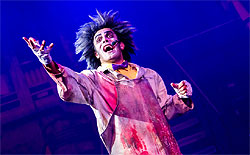 Show Times: 8:30 PM & 10:00 PM
Reserve VIP Seating available Here
The fan-favorite Fiends show, starring Dr. Freakenstein and his frightful entourage, will take to its largest stage ever for outdoor performances on the Festival Field Stage.
Modified bench seating will be arranged to accommodate physical distancing between parties.
*WARNING: Fiends is recommended for mature audiences. This show contains content with adult language, adult subject matter, scantily clad performers and sexual content.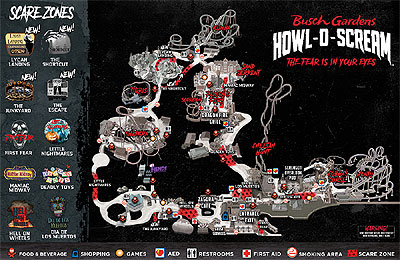 Download Event Map
FRIGHTS & SCARES
Zones throughout the park Open-air scare zones take over the 335-acre park, offering physically-distant frights as guests venture through the night.

NEW: Lycan Landing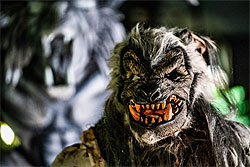 It's always a full moon at this campground and the park rangers can't hear you scream. When the campfires burn out, will you escape the glowing eyes leering through the trees or will you share their cursed fate?

NEW: The Shortcut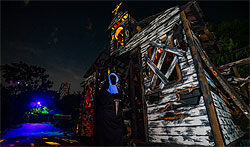 Cutting through the cemetery may seem like an easy way out, except when the corpses rise from the ground to invite you into their graves.

NEW: The Junkyard


You'll find more than spare parts as you explore this surly scrap site. Will you make it out in one piece or be devoured by the haunted rubble?

NEW: The Escape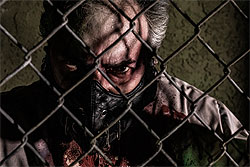 In this treacherous realm, chaos reigns and rules are made to be broken. The escaped inmates of Grey Echo Penitentiary seek their own twisted form of justice and they're ready to deliver your sentence.

First Fear
The icons of Howl-O-Scream's haunted past are the first frights to greet you, rising from the dead and bringing over 20 years of fear back to life

Little Nightmares
It's all tricks and no treats down this dark and eerie street, but there's no turning back now as childhood memories resurface with a horrifying twist.

Maniac Midway
Go backstage at "scariest show on earth" with Sparky and his terrifying carnie-crew as they take over Pantopia and make the midway their own stage of torture creating a frenzy of fear.

Deadly Toys
Your childhood play date is now a slay date as giant toys spring to life in a murderous rampage with you in their sights.

Día De Los Muertos
Honoring the souls and spirits of those who have gone before us, guests can dance the night away in this festive zone featuring a vibrant celebration of life and traditional tastes of Mexico.
RIDES & COASTERS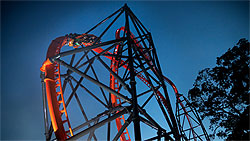 Take on your favorite roller coasters in the dark in between frights and scares.
Get Front of the Line Access to Rides During Howl-O-Scream
Purchase Here: https://buschgardens.com/tampa/events/howl-o-scream/reservations/
FOOD & BEVERAGES

DÍA DE LOS MUERTOS SPECIALS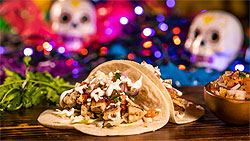 Stop by the Día de Los Muertos zone for specialty food and drinks

BIER FEST BITES
Select Bier Fest locations will be open throughout the night during Howl-O-Scream:
Coke Canopy Eats
Busch Bier Garten
Pub Grub
Xcursions: Gourmet Cupcakes
Tequila and Bourbon Flights Available

SPECIALTY DRINKS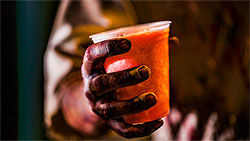 Gain some liquid courage at select locations across the park:
Signature Howl-O-Scream Cocktails
The Escape
A ghouling mixture of rum, blue curaco & cranberry juice
The Junkyard
Long Island inspired concoction of gin, rum, tequila, vodka & fruit juices

Syringe Shots
The Naughty Shot
Your favorite nurse's mix of gelatin infused with vodka
The Freaken Shot
Dr. Freakenstein's favorite mix of gelatin infused with tequila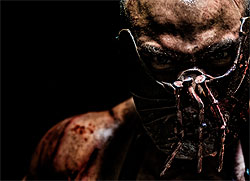 More Info on Howl-O-Scream and Busch Gardens Tampa Bay please visit:
https://buschgardens.com/tampa/events/howl-o-scream/

*Event dates and details subject to change and/or cancellation without prior notice. Howl-O-Scream is intended for a mature audience. This event contains intense adult content such as violence, gore, and blood. Howl-O-Scream is a separately-ticketed night event. Protective face coverings are required at all times for guests and ambassadors to ensure everyone's safety. Costumes or full-face coverings are not allowed.