Found Family Collective Event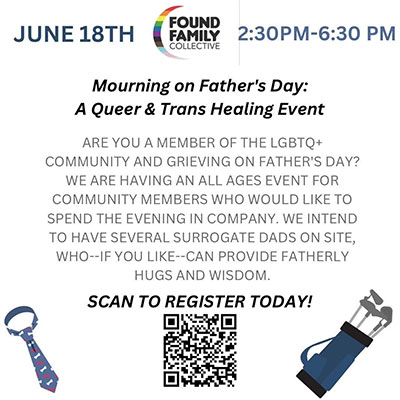 Are you a member of the transgender, lesbian, gay, bi+ or queer community and grieving on Father's Day? We are having an all-ages event for community members who would like to spend the evening in company. We intend to have several surrogate dads on site, who--if you like--can provide fatherly hugs and wisdom up to your comfort-level.

This event is for queer and trans people who (not all scenarios included):
Father figure has passed away
Is incarcerated
Is not emotionally available
Does not accept you/your identity
Or your a queer or trans father whose children donít accept you
Relationship with father figure is active, but complicated
Or any other reason you may be grieving on fatherís day

- Basically, if you feel you might need to be here, this space is for you.

Date & Time: June 18, 2023 from 2:30pm-6:30pm

FREE Event

Please RSVP on Eventbrite: https://www.eventbrite.com/e/fathers-day-a-queer-trans-healing-event-tickets-656135457817

Location: Location will be in Tampa, Florida in the 33604 zip code. You wil be notified of the exact location prior to the event start.

The Found Family Collective is a grassroots multi-cultural, multi-identity group of transgender, gay, lesbian and queer people who are looking to find family to help us survive the ongoing anti-gay, anti-trans and anti-queer culture society is trending toward.