Found Family Collective Event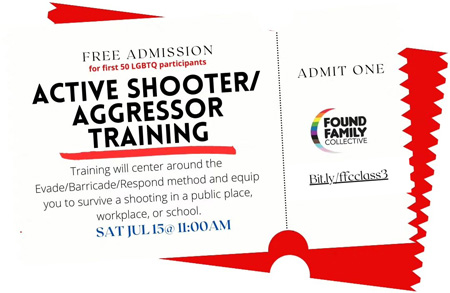 LGBTQ Self-Defense: ACTIVE SHOOTER/AGGRESSOR TRAILING
Free admission for the first 50 LGBTQ+ attendees

Active shooter/aggression defense training taught by Weapon Brand. We hope you'll never need this training but we'd rather you have the skills you need in case a gay bar, Drag story hour, pride event or even your regular workplace should become the target of active shooter or aggressive violence.

We especially call on #trans #lesbian #gay #bi #queer community members who work in the nightlife, including Drag entertainers, DJs, bartenders, go go dancers, and other bar staff to take this training.

If you work in the nightlife, please ask your manager/owner to contact us at found.family.collective@gmail.com so we can explain how this training will help the venue in total.
We'd also love to hand them flyers.

RSVP Here: Bit.ly/ffcclass3

Date & Time: July 15, 2023 from 11am-3pm

FREE Event

Location: Allendale United Methodist Church, 3803 Haines Road North, Saint Petersburg, Florida 33703 (Directions/Map)

The Found Family Collective is a grassroots multi-cultural, multi-identity group of transgender, gay, lesbian and queer people who are looking to find family to help us survive the ongoing anti-gay, anti-trans and anti-queer culture society is trending toward.