Found Family Collective Event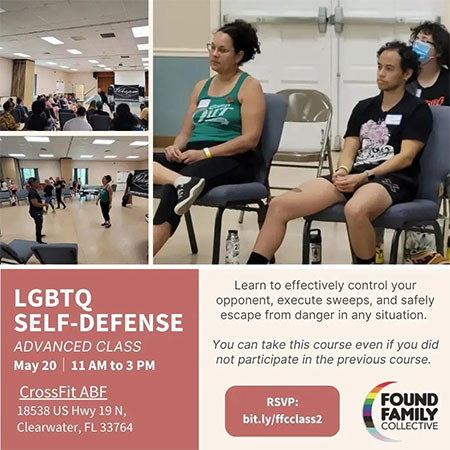 LGBTQ Self-Defense: Advanced Class
Training provided by Weapon Brand Self-Defense and location donated by CrossFit ABF This course is FREE up to 50 members of the transgender, lesbian, gay and queer community ages 15 and up.

You can attend even if you didn't attend the previous course. Contact Found Family Collective with questions.

COURSE TOPIC:
Advanced Defense by Weapon Brand Advanced combative self-defense is designed for those who have already gained a solid foundation in basic self-defense techniques and are now ready to learn more advanced skills. In this program, you will learn how to effectively control your opponent, execute sweeps, and safely escape from danger in any position or situation.

RSVP Here: Bit.ly/ffcclass2

Date & Time: May 20, 2023 from 11am-3pm

FREE Event

Location: CrossFit ABF, 18538 US 19, Clearwater, FL 33764 (Directions/Map)
Located in Workshop Warehouse Plaza

The Found Family Collective is a grassroots multi-cultural, multi-identity group of transgender, gay, lesbian and queer people who are looking to find family to help us survive the ongoing anti-gay, anti-trans and anti-queer culture society is trending toward.