Fairgrounds St. Pete Presents Second Annual
Pride Immersive Experience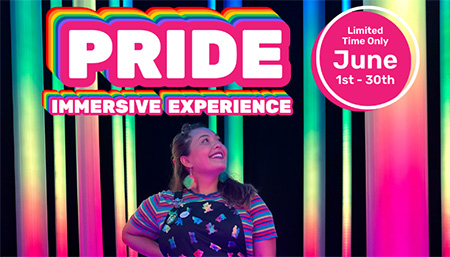 St. Petersburg, FL
Fairgrounds St. Pete, Tampa Bay's premier immersive art and technology museum, launches its second annual Pride Immersive Experience with a mesmerizing display of cosmic colors surrounded by the works of over 70 local and international artists. The experience features four of Fairgrounds St. Pete's signature installations transformed by rainbows in honor of Pride month. The Pride Immersive Experience is available now through June 30, 2023.

This annual experience celebrates the beauty of diversity and love through activations created by Fairgrounds St. Pete's internal art and technology team, and can be enjoyed by local guests, families and tourists alike.

"Fairgrounds St. Pete features a diverse set of materials, media and practices that likewise reflect our diverse and thriving community," said Mikhail Mansion, CTO and Co-Founder, "The Pride Immersive Experience is about celebrating all that diversity through color and light."

Focusing on creativity and innovation, this year's installation boasts an array of technological creations crafted by Fairgrounds St. Pete's internal art and technology team. At the heart of the exhibition lies the "Everglades Arena," where 288 radiant rain lights illuminate the space. Other immersive installations include: 11,000 pixels of rainbow colors encased in fifty-three light pipes, over 255 feet of fiber optic lights, and 82 LED light bulbs hacked and programmed to sync together in rainbow patterns.
Pride Immersive Experience is happening June 2023 at Fairgrounds St.Pete - Trailer

The Pride Immersive Experience is taking place now through June 30, 2023.
Timed tickets can be purchased in advance at www.fairgrounds.art.

Fairgrounds St. Pete, a woman and veteran-owned local business, had its Grand Opening on December 16, 2021 and celebrated its first expansion in April 2023.


DATE & TIME: June 1-30, 2023

HOURS:
Monday 5:00pm- 10:30pm
Thursday 12:00pm - 7:30pm
Friday 12:00pm - 10:30pm
Saturday 10:00am - 10:30pm
Sunday 10:00am - 7:30pm
(Closed Tuesday & Wednesday)

TICKETS: $27.00 General Admission - $22.00 Children (age 4-12)
Children under 4 FREE (No strollers please)

Discounts Available - Florida Resident (age 13+) w/ Florida ID, College Student w/ Student ID, Active Adult (age 65+), and Active Duty w/ ID

PURCHASE TICKETS: https://tickets.fairgrounds.art/events

LOCATION: Fairgrounds St Pete, 2606 Fairfield Ave S. St. Pete, FL 33712 (Directions/Map)

More Info: https://fairgrounds.art/

ABOUT FAIRGROUNDS ST. PETE:
Created in collaboration with over 70 artists, Fairgrounds St. Pete is an art and technology museum where everyone is invited to explore an immersive world of playful exhibits based on original Florida stories. Visitors are encouraged to escape reality, experience interactive story-driven installations, and engage in a world of art, play, joy and discovery.