Hollywood Award Winning Show,
"VINCERÒ- THE ITALIAN OPERA EXPERIENCE"
Comes to Tampa Fringe Festival 2022 International
ensemble looks to opera's past to preserve its future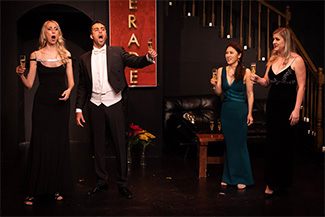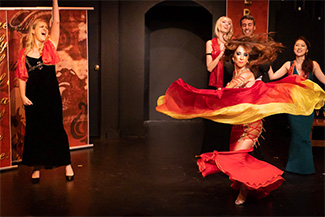 Images from Hollywood Premier. Photographs by Matt Kamimura
Italy comes to Tampa when Vincerò- The Italian Opera Experience takes stage at HCC Ybor Performing Arts Center as part of Tampa Fringe Festival August 5th-7th. The show closed its World Premier run in Hollywood,CA in June and is described as a "presentation of wonders for the operatic art unshackled from the stifling formality of the opera house and the throngs of old money ticket holders."

Staged in an immersive concert-style performance that is customized for each venue, Vincerò features selections of the world's most beloved and recognizable arias from Italian opera performed by the show's international cast, including its featured singer Mezzo Soprano and Recording Artist Natalja Sticco. The Tampa shows also include a guest appearance by Clearwater Guitarist Greg Smith who has collaborated with Sticco on music in the past.
Vincerò- The Italian Opera Experience with Natalja Sticco, Mezzo Soprano

Vincerò makes opera more accessible to audiences by eliminating stuffy opera-house stereotypes and returns the art to its origins as community entertainment. Producer Gino DiCapra, says, "When opera first appeared in Italy during the 1600's people from all walks of life gathered as a community to hear beautiful music, thrilling voices. It wasn't until the 19th century that opera's reputation as 'elitist' was born." That reputation has endured for two-centuries. DiCapra says Vincerò touches audiences in unexpected ways because, "at its core, the show honors our shared, cross-culture, human experiences. All of which are woven throughout opera, and audiences will feel that."

Tickets cost $12 and are one sale now at www.tampafringe.org. Additional information, photos and video from the show can be found on its website, www.VinceroOpera.com.

Tampa International Finge Festival
HCC Ybor - Performing Arts Building, 1411 E 11th Ave Tampa, FL 33605

Dates:
Friday, August 5 at 7:00 pm
Saturday, August 6 at 1:00 pm
Sunday, August 7 at 6:15 pm

Running time: 45 minutes

Cost/Tickets: $12.00
Purchase Tickets: https://www.tampafringe.org/shows

Suggested for 15+

Production Team:
Produced by Ascend Classical Corp.
Gino DiCapra (Writer & Director)
Paolo De Napoli (Maestro Emeritus / Vocal coach for Mrs. Sticco & Mr. Pavlov)
Marco Borroni (Associate Music Producer / Music Staff Teatro alla Scala Milan)
Veronika Zubairova (Associate Music Producer / Répétiteur Latvian National Opera)
More info on show visit: www.VinceroOpera.com
Social Media
Instagram: @vinceroopera
Twitter: @vinceroopera
Facebook: facebook.com/VinceroOpera

Vincerò- The Italian Opera Experience.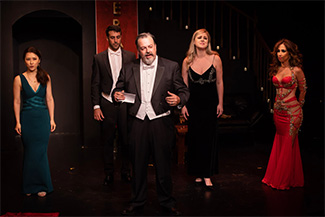 Images from Hollywood Premier. Photographs by Matt Kamimura