2023 TAMPA FRINGE FESTIVAL WILL HOST TAMPA NEWS FORCE LIVE!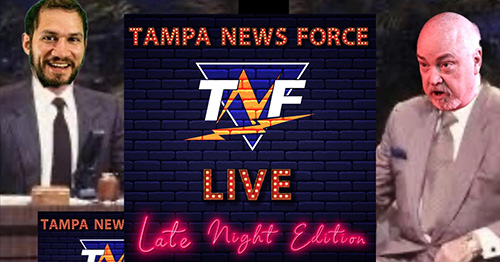 Tampa News Force is bringing their live show, "Tampa News Force Live" to the 7th Annual Tampa International Fringe Festival in an exciting, new-but-traditional format: a late-night TV talk show.

The local creators of Tampa Bay-centric satire and parody will put on a show after the fashion of "The Tonight Show" (when it was good) and other staples of a soon-to-be bygone era. "Tampa News Force Live" will feature co-hosts Josh Santos and Clark Brooks, music, comedy, special guests and some surprises, all presented in front of live "studio" audiences. Among the special guest performers will be local burlesque superstar Katie James as Miss TNF.

21+ - 60 Minutes

Performance Dates:
May 11, 2023 at 8:45 am
May 12, 2023 at 10:30 pm
May 13, 2023 at 10:30 pm

Tickets: $15.00 (plus festival fees)

Ticketing and Fringe information: https://www.tampafringe.org

Location: The Kress Building: Screendoor Venue - 1624 E 7th Ave #228 Tampa FL 33605 (Directions/Map)

PERFORMER BIOGRAPHIES
ABOUT JOSH SANTOS:
An original founder of Tampa News Force, Josh is originally from Milwaukee, Wisconsin and now performs stand-up comedy all over the Tampa Bay Area in addition to providing digital media consultations and production services to clients of all industries. His work includes TV Broadcast Spots, Film Premieres, Social Media Ad Campaigns, Email Campaigns, Magazine/Print Design, Web Design and Management.

ABOUT CLARK BROOKS:
Hailing from Benton Harbor, Michigan, Clark serves as the Senior Supreme Executive Content Editor and a contributing writer for Tampa News Force. He is also a stand-up comedian who has performed with acclaimed comics like Josh Blue, Lynne Koplitz, and Carl LaBove among others. To date, he has authored two books.

ABOUT KATIE JAMES:
Katie James, known as "The Bombshell Ballerina," has been bringing her unique brand of beauty and poise to burlesque stages around the world on land and sea for the past twelve years. As a third-generation dancer/burlesque performer, bumping, grinding and ballet are in her blood, and she has nearly a lifetime of professional dance training to back it up. Katie is also a powerhouse producer and the mastermind behind "Femmes & Follies," the largest show in Tampa for 9 years running, enjoyed by diehard burlesque fanatics and newcomers alike. Though it's not just audiences who've enjoyed the fruits of Katie's labors—over the years she has raised over $100,000 with her annual animal rescue benefit show. Outside of burlesque, Katie enjoys working as a backup dancer for rock bands and empowering others to rekindle their sex appeal through movement in her classes.

ABOUT TAMPA NEWS FORCE:
Tampa News Force (TNF) serves as an outlet for producing a variety of comedic content. TNF publishes comedy content daily at http://tampanewsforce.com as well as producing films, video sketches, live shows and more. To date, TNF has provided a creative platform for more than 60 local comedians, writers and other performers.
Facebook Event Page: https://fb.me/e/QfSiXKT8