Retro, Queer Romance
GOING TO THE TOP
will be presented at the 2022 International Tampa FRINGE Festival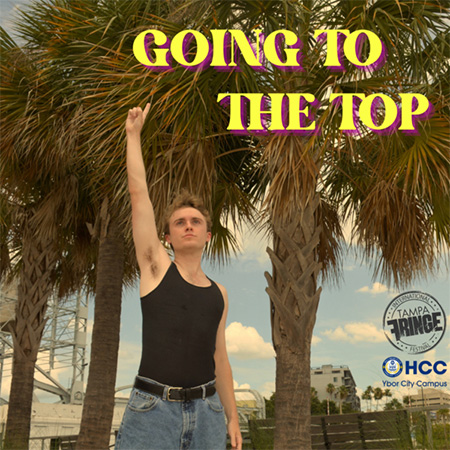 Local theatre director and educator, Matthew Belopavlovich, will premiere his new one-act, GOING TO THE TOP, at the 2022 Tampa International Fringe Festival. The play follows a gay couple as they stand-up for equal rights, a topic all too familiar in Florida with the recent bill labeled "Don't Say Gay."

Thomas, a budding activist attending San Francisco State, and soccer-obsessed James started dating in high school. Reunited for summer break, the young couple plans to dance the night away at Music Video City, a popular theme park's newest date night hangout. When Thomas and James are met with discrimination, they question whether the "jolliest place on earth" is for everyone. Inspired by a series of real events spanning five years in the 1970's and '80s, this queer one-act romance explores themes of coming out, equality, and the power of community.

The cast for GOING TO THE TOP is Bo Bailey (James), Jonathan O'Brien (Thomas), Audrey Siegler (Mother), and Ryan Fisher (Everyone Else). The production will feature the synth-pop song "Dance with Me" by Kyle Waves, a queer Singaporean-American singer-songwriter based in New York City. The Artistic Team includes Matthew Belopavlovich (Writer/Director), Steven Jones (Choreographer), and Julia Bodolay (Stage Manager/Publicist). The production runs July 28-August 7, 2022 at the Tampa International Fringe Festival with various performance times.

Tampa International Fringe Festival
HCC Ybor Campus Studio Theater

Cost/Tickets: $10.00 plus handling fee

Purchased Tickets: https://www.tampafringe.org/shows - select Going To The Top

Visit the Tampa Fringe website for more information: https://www.tampafringe.org

Dates:
July 28 at 9:45pm
July 29 at 9:00pm
July 31 at 3:30pm
August 3 at 8:15pm
August 7 at 3:30pm

Follow the play @goingtothetop22 on Instagram.