Queer artist TANZER releases mini-album DISCO AUTOMATIC and new single
and music video "DESTINATION LOVE" featuring The Huxleys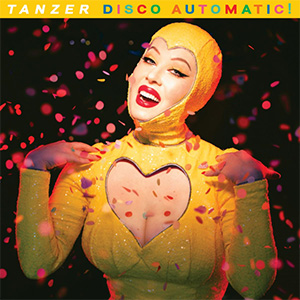 New York, NY
In celebration of her brand new mini-album Disco Automatic, Australian-based singer, DJ, artist and proud queer community member Tanzer has released the music video for "Destination Love" featuring queer art duo The Huxleys. Watch the new music video, a colorful voyage through queertopia and beyond, HERE!
Tanzer - Destination Love feat. The Huxleys (official music video)

In the music video, directed and edited by The Huxleys, Tanzer travels through a backdrop of scenic destinations accompanied by a glamorous squad of queer characters including the incomparable duo The Huxleys. A Eurotrash fever dream, the video mixes kitsch Australiana with projections of a fictional 'dolce vita holiday' to Italy, their favorite destination. The hypercolor music video references everything from Leigh Bowery to Tweety Bird to Jean Paul Gaultier, ready to leave you in a glittery daze.

Of the collaboration Tanzer says: "The Huxleys and I spent our most awkward childhood years in the outskirts of suburban Australia, where building an escapist fantasy world in the mind was our way of feeling safe and hopeful. We all draw inspiration from glam rock, disco and queer art - and have been translating our inner world on the outside ever since - on the stages of festivals, galleries and glamorous parties all over the world. We also happen to be obsessed with the romance and majesty of Italy - where I also grew up in between stints in Aussie suburbia. It was time for an outrageous tribute."

In addition to releasing "Destination Love," Tanzer has released her mini-album Disco Automatic. The 6-song release shows the range of Tanzer's multi-hyphenate abilities in all of its disco, pop, operatic majesty. The accompanying videos also dazzle with an array of themes from Drag (including Tanzer's Drag King persona) to Sci-Fi and so much more.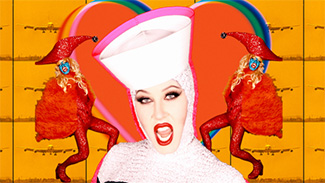 Tanzer traveled all the way from Australia to the micro-state of San Marino this year to enter "Fantasy" into the national final for the Eurovision Song Contest - a lifelong dream for Tanzer, who grew up in Rome, Italy watching the infamous song competition. She may not have won the chance to perform at Eurovision, but she amassed a huge cult following along the way, with countless fans glued to her high-camp Instagram video diaries documenting her Eurovision adventure.

Disco Automatic has some of Tanzer's previously released tracks including her disco-tinged single "Fantasy." The accompanying music video is a sci-fi heartbreak epic and ode to doomed love. In the video, directed by Alex Smith, Tanzer urges her toxic lover to abandon all logic and reason for one more sip of poison before their inevitable demise. The mini-album will also include the previously released track "Tango," a bizarre, funky disco banger featuring lyrics in English and shabby Australian-Italian and "Deep Fried Disco," which was inspired by the fantastic, camp songs we all know and love.

See Tanzer's upcoming live dates across the globe HERE.

Stream the mini-album HERE
Watch the "Destination Love" music video HERE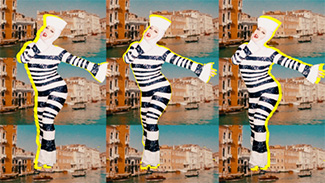 CONNECT WITH TANZER
Official | Facebook | Instagram | YouTube
ABOUT TANZER
Tanzer is in the business of escapism - and escape you shall. A singer, composer, DJ and visual artist, Tanzer is known for her cinematic, high-glamour, escapist works that are at once intensely powerful, deeply fragile and darkly humorous. Her work spans stages, clubs, galleries and festivals and fuses musical forms to a multitude of performative and artistic outcomes. Her musical compositions move from opera to disco and from the experimental to pure pop - exploring self-image, gender, romance and the power of the alter ego. Her film and curatorial works are renowned for their elaborate dreamscapes and meticulous aesthetic that take stylistic cues from '70s retro-futurism, Euro-camp and Australian pop culture nostalgia.