Strange Girls at the Tampa International Fringe Festival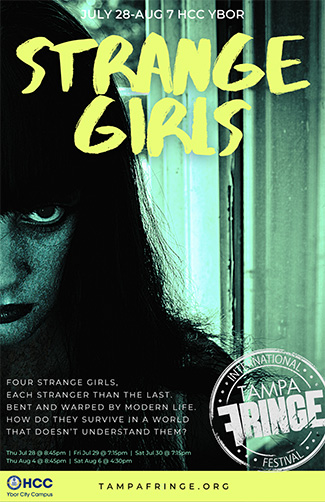 "The world hasn't changed but the days have become more unusual."
Meet four strange girls, each stranger than the last. Bent and warped by modern life. How do they survive in a world that doesn't understand them?

The Strange Girls Project presents 4 disturbing tales of obsession featuring women who, although a little warped, are just longing to belong to something---no matter the cost.

This unique theatrical performance features the work of three veteran performers, each a master of solo storytelling on stage. Bridget Bean (Noelle) is no the format having performed in Shirley Valentine, Talking Heads, and Underneath the Lintel as well as performing her one woman show, Mrs. Bliss' Titanic Adventure at the Orlando International Fringe Festival and Tampa International Fringe Festival. Laila Lee,(Esmeray), a natural storyteller, won "Most Courageous" at Shameless Stories in Tampa. She also won the "Jenny Award for Telling it Like it is" in 2019 International Winnipeg Fringe Festival for her self-written one woman show, The Light Bringer (also featured at this year's Tampa Fringe). Dawn Truax has acted in a heck of a lot of shows all over the Tampa Bay area including her one woman show Roarin'Judy, and the show that inspired Strange Girls, Talking with…. And introducing Madison LeVine (Gecko Girl), a student at Blake High school for the Arts. Maddie now has the unique challenge of working with a very, very unusual scene partner.

The Strange Girls writers also have some intriguing day jobs including regular seasonal gigs performing as a most delightful, theme park Mrs. Claus and a spooking psychic for Tampa's Vault of Souls (Bean). Truax (as head of Stageworks Education) brings the performing arts to kids in foster care and juvenile detention.

Strange Girls been described as "funny and creepy" and packing a "real emotional gut punch."

Run time 60 minutes.
Suitable for general audiences.

Tampa International Fringe Festival
The Coop Stage: 109 - HCC Ybor, (Corner of Palm & 14th)

Ticketing and Fringe information: https://www.tampafringe.org

Dates:
July 28 at 8:45 pm
July 29 at 7:15 pm
July 30 at 7:15 pm
August 4 at 8:45 pm
August 6 at 4:30 pm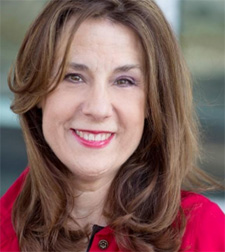 Dawn Truax (Zebras) has done a heck of a lot of shows all over the Tampa Bay area including Shear Madness, Medea, Keely and Du, Midsummer's Night Dream, The Crucible, The Laramie Project and her one woman show Roarin'Judy and the show that was the inspiration for this work Talking with...And she wants everyone to know that she is NOTHING like her character.