"SOLD! Off to the American Dream!"
Freedom, but at what cost? A Palestinian immigrant and her family find more
freedom in the US than expected.

LIGHTBRINGER PRODUCTIONS PRESENTS
The Light Bringer at the Tampa International Fringe Festival 2022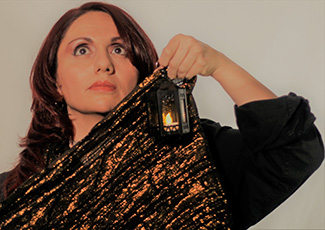 A true-life storytelling show written and performed by Laila Lee, directed by Bill Pats. In this one-woman show, Laila brings to light her experiences growing up Muslim in the American South, and how she discovers her own place in the world and what sacrifices she must make.
Laila Lee is a performer hailing from Tampa, Florida. Laila and Bill came upon each other's work at Shameless Stories, Tampa, where the pair began working together on The Light Bringer. Laila Lee moved to the United States from Saudi Arabia at eight years old. Laila studied theatre at the University of South Florida while obtaining a Pre-Medical Degree, receiving a BA in Theatre and a BS in Biology. Leaving the medical path behind, Laila has worked with numerous Tampa Bay professional theatre companies, including Ghostlight Theatre, for which Laila performed in All in a Day's Work and Inappropriately Funny Moments, and wrote and performed "Dear Aunt Flow" in Stories and Stilettos. Her favorite acting credits include Leonora in Gorilla Theatre's production of The Long Christmas Dinner, Zerbinette in Hat Trick's production of Scapin, and Peggy in Eckerd Theatre's production of The Hundred Dresses. A natural storyteller, she won Most Courageous at Shameless Stories in Tampa and the Jenny Award for "Telling it Like it is" in Winnipeg, Canada.

Storytelling is one of the most compelling and captivating genres that draws people to experience someone's story unfold on stage. Life is stranger than fiction, especially when it examines the overwhelming themes of immigration, family dynamics, and desire for harmony between an old world and a new one whilst attaining "the American dream" in the backdrop of many political, religious, and global issues. The Light Bringer is a timely piece that explores such themes, proving to be one of the most powerful stories in the fringe festival.

Awards:
Best of Fest Tampa International Fringe Digital 2020 Festival
Jenny Award for Telling Like it Is, 2019 Winnipeg Fringe Theatre Festival

"Devastating and satisfying"- Winnipeg Free Press
"A rich tale well told." - University of Manitoba, Winnipeg
"Laila Lee produces with spades." - Jenny Revue

Tampa International Fringe Festival
The Coop Stage- 107, HCC Ybor (Corner of Palm and 14 Ave)

Cost/Tickets: https://tampafringe.org/shows/

Dates:
July 28 at 7:00 pm
July 30 at 9:15 pm
July 31 at 6:00 pm
August 6 at 6:30 pm
August 7 at 2:45 pm

Light Bringer Productions: www.thelight-bringer.com