Black Hat Theatre presents My Year of Saying No
at the 2023 Tampa Fringe Festival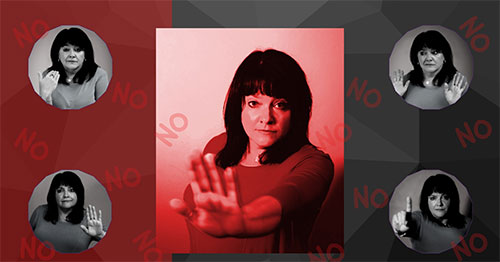 My Year of Saying No written and performed by Janice Creneti and directed by and developed with Jessica Lynn Johnson will perform at the 2023 Tampa Fringe Festival.

My Year of Saying No chronicles the author's journey through the first year of the COVID-19 pandemic exploring the impacts of sexism, gender roles and society's rigid expectations on mental health. Through the use of multimedia and multiple characters such as Patriarchy, Perfection, Zoom, Janice's Body and COVID herself, this serio-comedy solo show tracks one woman's journey to confront all that isn't working in the world, and in her life, to build a path back to herself. It first debuted at the 2021 Powerstories Theatre Voices of Women Theatre Festival and was featured as the 2023 Studio Project at Carrollwood Cultural Center.

"My Year of Saying No is a masterclass in what a solo show can be. Beautifully paced, poignant, purposeful and funny… An awakening journey, connected to us through COVID and the collective re-examining of our lives." - Samantha Simmonds-Ronceros, Theatre Editor, NoHo Arts District (read the full review here).
My Year of Saying No Trailer

Janice Creneti is an award-winning actor and director with four decades of experience, including 18 years performing and directing in the Tampa Bay area. She has appeared in over 100 productions including live theater, TV and film.

More info: https://www.janicecreneti.com/my-year-of-saying-no

Performance Dates:
May 11 at 7:00pm
May 13 at 10:00pm
May 14 at 3:15pm

Tickets: $10.00 (plus festival fees)

Ticketing and Fringe information: https://www.tampafringe.org

Location: The Kress Building: The Cage - 1624 E 7th Ave #318 Tampa FL 33605 (Directions/Map)
Facebook Event Page: https://fb.me/e/19gOqCG5a