RETURNING QUEENS ANNOUNCED FOR VH1'S
"RUPAUL'S DRAG RACE ALL STARS"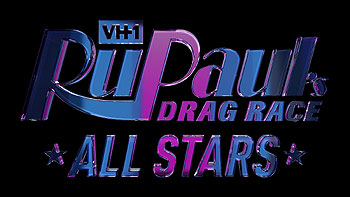 PREMIERING FRIDAY, DECEMBER 14TH AT 8:00 PM ET/PT


NEW YORK, NY
Following the record-breaking tenth season of VH1's "RuPaul's Drag Race," which just became the first show to ever win an Emmy® Award in both the Outstanding Reality-Competition Program and Outstanding Host for a Reality or Reality-Competition Program categories in the same year, VH1 has announced the queens returning to the mainstage to compete in the fourth season of "RuPaul's Drag Race All Stars." The groundbreaking competition is set to return with supersized, 90-minute episodes and more stunning fashions, killer lip-syncs, and jaw-dropping twists than ever before. "RuPaul's Drag Race All Stars" will also be making Friday nights fierce again when it premieres on Friday, December 14th at 8:00 PM ET/PT on VH1.

"The fourth season of 'RuPaul's Drag Race All Stars' is going to blow. your. mother. tucking. mind.," said three-time Emmy® Award-winning host and EP RuPaul. "Satisfaction guaranteed or your henny back."

The ten super queens competing to prove that they're ready to become "Drag Race" royalty in the fourth season of "All Stars" include:
Farrah Moan (Season Nine)
Los Angeles, CA | Twitter: @farrahrized, Instagram: @farrahrized
Farrah moaned her way through season nine, and your favorite Vegas showgirl is back for "All Stars" four! The cotton candy queen may have gotten lost in her emotions in her season, but on "All Stars," she's ready to highlight (wink) her talents…. She wants to prove to the world that she's more than just a cry baby and take her place on a pink pedestal in the "Drag Race" Hall of Fame!

Gia Gunn (Season Six)
Los Angeles, CA | Twitter: @GiaGunn, Instagram: @gia_gunn
Gia Gunn is back, but does she have the firepower to blast her way into the "Drag Race" Hall of Fame? Absolutely. Gia wants to show she's more than sassy catchphrases from season six. She's fully seasoned and ready to snatch that "All Stars" crown!

Jasmine Masters (Season Seven)
Los Angeles, CA | Instagram: @msjasminemasters
Her name is Jasmine Masters, and she has something to say… she's here, b*tches! Back for more, on "All Stars" four! Since season seven, Jasmine has gone viral on social media making her the ultimate "meme queen." But Jasmine wants to prove she packs more than a punchline and has the skills to take home the crown.

Latrice Royale (Season Four and "All Stars" One)
Hollywood, FL | Twitter: @LatriceRoyale, Instagram: @latriceroyale She's large and in charge, chunky yet funky... she is Latrice Royale! Latrice competed on season four and as half of "Team Latrila" on "All Stars" one, but she failed to make her way to the top both times. She's back in the werkroom to prove that an OG queen can serve it to the younger queens and finally secure her spot in the "Drag Race" Hall of Fame!

Manila Luzon (Season Three and "All Stars" One)
Los Angeles, CA | Twitter: @manilaluzon, Instagram: @manilaluzon
Runner-up on season three and gone-too-soon on "All Stars" one, Manila is back again hoping the third time is the charm. She's got a closet full of campy couture and the comedic chops to make Manila an "All Stars" thrilla, but will it be enough to finally take home the "Drag Race" crown?

Monét X Change (Season Ten)
New York, NY | Twitter: @monetxchange, Instagram: @monetxchange
On her season, Monet X Change won the hearts of all and the Miss Congeniality title. Fresh off of season 10, she's back with a fire lit under her padded ass to serve some polished looks and prove she has everything it takes to soak up the "All Stars" crown!

Monique Heart (Season Ten)
Kansas City, MO | Twitter: @IAmMoniqueHeart, Instagram: @iammoniqueheart
Monique Heart came to Season 10 with talent, glitter, and Jesus… What she lacked was the funds for a closet full of costumes. Since her season, she's performed all over the world, making that coin and amassing a stunning collection of lerks. Monique is back for "All Stars," reclaiming her time, and vying for a spot in the "Drag Race" Hall of Fame!

Naomi Smalls (Season Eight)
Chicago, IL | Twitter: @naomismallsduh, Instagram: @naomismalls
On Season eight, Naomi Smalls put the LEG in "legendary" and stomped her way into the top three. She's back on "All Stars" to prove she can outperform the best of 'em and to show the world you should never underestimate the tall, pretty fashion model.

Trinity Taylor (Season Nine)
Orlando, FL | Twitter: @trinitythetuck, Instagram: @trinitythetuck Trinity Taylor is back as Trinity the Tuck… and this tuck has teeth! On Season nine the pageant queen, with body for days, made us laugh all the way to the top four. But now, full "All Star" confidence, she's here to claim her seat in the "Drag Race" Hall of Fame.

Valentina (Season Nine)
Los Angeles, CA | Twitter: @allofvalentina, Instagram: @allaboutvalentina
It's fan favorite, Valentina! She was chopped from season nine for not knowing the words, but since her season, there's no masking her talent. The glamorous, high fashion, Latin American diva is back on "All Stars" for her Telenovela redemption story…. and the "All Stars" crown.

Beginning today at 10:00 AM ET/7:00 AM PT, the reigning "RuPaul's Drag Race All Stars" winner, Trixie Mattel, will be joined by former "All Stars" finalists Detox and Katya to spill the tea on the new cast of queens in a talk show-style live stream which will be broadcast on Facebook, Twitter and YouTube platforms. Throughout the stream, Trixie will encourage fans to comment on their favorite queen moments and sound off about who they're rooting for. Fans comments will be visualized in a SLAY-O-METER graphic overlay showcasing the volume of social conversation around each queen.

To celebrate the upcoming season of "RuPaul's Drag Race All Stars," Logo will be airing a week-long marathon of every episode of "RuPaul's Drag Race" and "RuPaul's Drag Race All Stars." Starting on Friday, December 7th, at 10:00 PM ET/PT, the marathon will run until December 14th at 8:00 PM ET/PT, leading into the new season's premiere.

Viewers will also get a holiday treat this year with "RuPaul's Drag Race Holi-slay Spectacular" premiering Friday, December 7th at 8:00 PM ET/PT on VH1. The one-hour holiday-themed episode will bring back franchise favorites including Eureka O'Hara, Jasmine Masters, Kim Chi, Latrice Royale, Mayhem Miller, Shangela, Sonique, and Trixie Mattel as they compete for the title of America's first "Drag Race Xmas Queen."

For more information on "RuPaul's Drag Race All Stars" and up-to-date news, go to http://www.vh1.com/shows/rupauls-drag-race-all-stars or to the "RuPaul's Drag Race All Stars" Facebook page.

"RuPaul's Drag Race All Stars" is produced by World of Wonder Productions with Fenton Bailey, Randy Barbato, Tom Campbell, Steven Corfe, Mandy Salangsang and RuPaul Charles serving as Executive Producers. Pamela Post and Tim Palazzola serve as Executive Producers for VH1.

About VH1:
VH1 is the dominant pop culture brand for adults 18-34. The network is available in 86 million U.S. households and has an array of digital channels and services including the VH1 App, VH1.com and @VH1. VH1 is a unit of Viacom Inc. (NASDAQ: VIA, VIAB). For more information, please visit www.VH1press.com, VH1.com, or the VH1 Facebook page. Follow us on Twitter @VH1PR.

About World of Wonder:
Award-winning production company World of Wonder is behind entertaining and critically acclaimed hit series including the Emmy® Award winning RuPaul's Drag Race (VH1/Logo), which received a groundbreaking seven 2017 Emmy® nominations, Million Dollar Listing LA & NY (Bravo), Big Freedia: Queen of Bounce (Fuse), and Gender Revolution: A Journey with Katie Couric (National Geographic). World of Wonder has also created award-winning films and documentaries such as Mapplethorpe: Look at the Pictures, Menendez: Blood Brothers, Inside Deep Throat, The Eyes of Tammy Faye, I Am Britney Jean, In Vogue: The Editor's Eye, Carrie Fisher's Wishful Drinking, Monica in Black and White, The Last Beekeeper, which won an Emmy® Award for Outstanding Nature Programming and Out of Iraq, which won an Emmy® Award for Outstanding Special Class Special. Seven of their films have premiered at the Sundance Film festival including Becoming Chaz and Party Monster, the documentary and feature film starring Macaulay Culkin. World of Wonder has created a substantial digital footprint with its YouTube channel WOWPresents, along with an award-winning blog, The WOW Report. Co-founders Randy Barbato and Fenton Bailey authored The World According to Wonder, celebrating 21 years of production, which can be found online at http://worldofwonder.net/. Randy and Fenton were honored with the IDA Pioneer Award in December 2014, celebrating exceptional achievement, leadership, and vision in the nonfiction and documentary community.