2018 OUTFEST LOS ANGELES
LGBT FILM FESTIVAL ANNOUNCES GALA SCREENINGS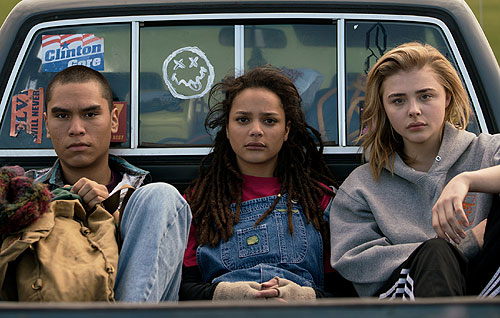 The Miseducation of Cameron Post
(Closing Night Gala)
Director: Desiree Akhavan
Desiree Akhavan won us over in 2014 with her hilarious feature debut Appropriate Behavior, and she brings her trademark wit and sass to this impressive follow-up feature. An adaptation of Emily M. Danforth's celebrated queer YA novel, the film was awarded the Grand Jury Prize at the 2018 Sundance Film Festival for its warm, charismatic, and fearless performances.

Set in the early '90s, the film follows lesbian teen Cameron (Chloë Grace Moretz), sent to a religious conversion camp after she gets caught hooking up with her female best friend. At the camp, Cameron reluctantly undergoes various tactics used to "cure" same-sex attraction from persistent camp leaders Dr. Lydia Marsh (Jennifer Ehle) and Reverend Rick (John Gallagher Jr.), who are intent on "saving" LGBTQ teens. While some of the teens embrace the treatment, Cameron resists, and instead forms an alliance with the rebellious duo Jane (Sasha Lane, American Honey) and Adam (Forrest Goodluck, The Revenant). The heartfelt bond shared among the three friends gives them the strength they need in order to rise up and live their truth.

Akhavan's unapologetically queer lens delivers a refreshing take on the troubling topic of conversion therapy (which is, to this day, still used in some states) while exploring the themes of self-love, identity, and chosen family, all with unexpected flourishes of humor.

ABOUT OUTFEST
Celebrating its 36th anniversary, Outfest was founded by UCLA students in 1982 who were looking for positive images of themselves in media. Today Outfest is the world's leading organization that promotes equality by creating, sharing, and protecting LGBTQ stories on the screen. Outfest builds community by connecting diverse populations to discover, discuss, and celebrate stories of LGBTQ lives. Over the past three decades, Outfest has showcased thousands of films from around the world, educated and mentored hundreds of emerging filmmakers, and protected more than 37,000 LGBTQ films and videos. Outfest Los Angeles LGBTQ Film Festival is 11 days of world-class films, panels, and parties.

ABOUT HBO
Home Box Office, Inc. is the premium television programming subsidiary of Time Warner Inc. and the world's most successful pay TV service, providing the two television services – HBO® and Cinemax® – to approximately 131 million subscribers worldwide. The services offer the popular subscription video-on-demand products HBO On Demand® and Cinemax On Demand®, as well as HBO GO® and MAX GO®, HD feeds and multiplex channels. HBO NOW®, the network's internet-only premium streaming service, provides audiences with instant access to HBO's acclaimed programming in the U.S. Internationally, HBO branded television networks, along with the subscription video-on-demand products HBO On Demand and HBO GO, bring HBO services to over 60 countries. HBO and Cinemax programming is sold into over 150 countries worldwide.