MORGXN FT. WALK THE MOON
PREMIERES "HOME" VIDEO HERE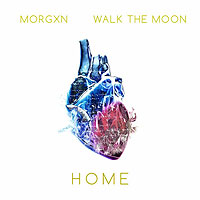 CURRENTLY ON TOUR WITH DREAMERS + WEATHERS
TICKETS + INFO HERE

morgxn - home (official video) ft. WALK THE MOON


morgxn and alt-pop four-piece WALK THE MOON have come together to reveal their take on morgxn's standout song with a visually stunning video for "home" HERE, directed by Morgan Freed (Ride or Cry) and produced by Lara Mendizza. Premiered by NYLON HERE, they state "It's as if Nicholas Petricca was meant to be on this track all along."

morgxn and WALK THE MOON frontman Nicholas Petricca sang "home" for the first time live at morgxn's Lollapalooza debut performance earlier this summer and decided to go into the studio to turn it into an official collaboration.

morgxn about "home":
"home is a feeling you get when you're with the people that understand you completely. it's not always family - sometimes it's a lifelong journey to find the places and spaces where you feel most yourself. joshua tree has always been a place i come back to. it's one of the only places where the silence is so loud you don't need to overthink it."

nick from WALK THE MOON about "home":
"When i first heard morgxn's voice, first experienced his music, i knew instantly he was one of my all-time favorite artists. That was the night we met, when he was morgan-with-an-"a", and he was just sharing some demos he'd been working on. I was mesmerized by his angelic tone and his courageous ability to go deeply, darkly vulnerable.

"home" is one of those first ideas he shared with me, and today i get to be a part of it with WALK THE MOON. This song is one of those universal stories to which any human being can relate. Personally it reminds me of the new home i'm seeking to create for myself, the one without parents or training wheels, where I can feel strong on my own."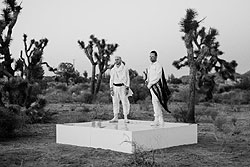 Photo credit: Dusty Kessler
morgxn is currently on tour with Dreamers and Weathers, stopping in cities across the country (see all dates below). Previously, morgxn has toured with Phoebe Ryan, Skylar Grey, miike snow and X Ambassadors.
morgxn live dates:
Sun 9.30 - Boston, MA @ Brighton Music Hall
Mon 10.1 - New York, NY @ Bowery Ballroom
Tue 10.2 - Philadelphia, P A@ Voltage Lounge
Thu 10.4 - Pittsburgh, PA @ Spirit Hall
Fri 10.5 - Columbus, OH @ The Basement
Sat 10.6 - Detroit, MI @ The Shelter
Mon 10.8 - Cincinnati, OH @ 20th Century Theatre
Wed 10.10 - Chicago, IL @ Lincoln Hall
Thu 10.11 - Burnsville, MN @ The Garage
Fri 10.12 - Lawrence, KS @ Granada
morgxn who recently released his debut album vital sat down with Rolling Stone and GRAMMYs at Lollapalooza to shed light on his standout song "home" (over 10m streams) and a Robert Smith-approved cover of The Cure's "boys don't cry." Additionally, his song "carry the weight" was the soundtrack to HBO's chill-inducing "Share The Love" PRIDE campaign and added to SiriusXM's Alt Nation. Morgxn recently revealed a live, stripped down version of his single "carry the weight", shot at Clubhouse Austin here and an intimate Baeble Music NEXT session "Armed with just a piano, he let his voice shine, switching between powerhouse vocals and delicate vibrato" here.

DOWNLOAD HERE + STREAM HERE

morgxn
http://www.morgxn.com/
https://twitter.com/morgxn
https://www.facebook.com/morgxnofficial
http://instagram.com/morgxnofficial
http://hollywoodrecs.co/morgxnOAC

WALK THE MOON
http://www.WALKTHEMOONband.com/
https://twitter.com/WALKTHEMOONband
https://www.facebook.com/WALKTHEMOON/
https://www.instagram.com/WALKTHEMOONband/

On WALK THE MOON:
Hailing from Cincinnati, OH, WALK THE MOON consists of Nicholas Petricca (singer/keyboardist), Kevin Ray (bassist), Eli Maiman (guitarist), and Sean Waugaman (drummer). WALK THE MOON's new single "Kamikaze," off their most recent album What If Nothing is currently dominating the charts, following their lead single "One Foot" which hit #1 at Alternative Radio. In 2015, the band catapulted to stardom when their hit single "Shut Up and Dance", which is included on their RIAA Certified Gold album TALKING IS HARD, became a multi-platinum global smash that peaked at No. 1 on the Alternative, Hot AC, AC charts, No. 4 on the Billboard Hot 100, and went to No. 2 at Top 40 radio. The track also broke the record for consecutive weeks at #1 on Billboard's Hot Rock Songs chart at the time. "Shut Up and Dance" racked up over six million downloads and 850 million streams in the process leading to a slew of honors including winning two Billboard Music Awards, a nomination for an MTV Music Video Award for Best Rock Video, American Music Award nominations for Favorite Pop/Rock Duo Or Group, New Artist of the Year, and Favorite Alternative Rock Artist. They were also nominated for an iHeart Radio Music Award for Best Duo/Group of the Year, Song of the Year, and Alternative Rock Song of the Year for "Shut Up and Dance". WALK THE MOON has been praised by music industry tastemakers across the board since their explosive first single "Anna Sun" was released in 2012, as Interview Magazine proclaimed, "There's something about WALK THE MOON that's absolutely out of this world. Their music is addictive, energetic, and fun." Rolling Stone also raved about the band's live show, "The precocious Ohioans stack melodies upon melodies in new-wave-infected songs that attack the ear like a starving Mike Tyson."