Masks of an Immigrant, a solo show by Jovan Rameau,
Comes to Tampa FRINGE Festival 2022.

"When you're perceived as an unwanted immigrant child, and you suffered from self-loathing,
you look for an identity that will make you acceptable."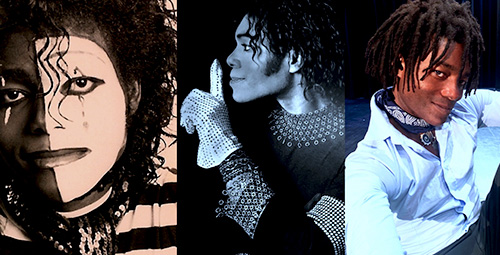 How a young Haitian Immigrant overcame hardships of racism in Miami 1980'S-
-sacrificing his identity for ACCEPTANCE and LOVE with his ALTER EGO MASKS he hides behind.
Performing Artist, Jovan Rameau, brings his autobiographical coming of age solo show to the Tampa Fringe Festival in August. Jovan's personal immigrant experience to 1980's America, he takes the audience on a journey from his peaceful and serene birthplace of Haiti's countryside into the shocking reality of a world that treats Haitians as less than human in Miami, Florida; consequently, Jovan must put on numerous masks to disguise, survive, and find acceptance: "The Mime", "The Break-Dancer", "The Alter Ego", "The Gigolo", "the Opportunist Papa Legba", "The successful Michael Jackson Impersonator", becoming "the Harvard Man" and more, like his Porsche 911 (another mask) as a last attempt to evade countless police racial stops…But the Masks create their own burden until a near death experience allows him to conjure up the courage to tear off the masks and embrace the beauty of his being.

Jovan's Bio: After graduating with a BFA and an MFA in acting, Rameau began performing in venues like The American Repertory Theatre at Harvard, The Shakespeare Theatre of Washington DC, The Yale Repertory Theatre, The Playwrights Theatre, The Moscow Art Theatre Studio. As a classically trained actor, Rameau is known for his work in Shakespeare productions and has held roles like Florizel in the Winter's Tale, Fortinbras in Hamlet, Orsino in Twelfth Night, Prince of Morocco in Merchant of Venice, Cleon in Pericles, Haemon in the Oedipus Plays in Washington, D.C and performed it abroad at the Acropolis in Athens, Greece under the direction of Michael Kahn, Three Fingered Jack in Obi, Duke Theseus in A Midsummer Night's Dream and the title character in Dracula at The Underground Theater - Los Angeles, CA. Rameau is known for the voices of a few marvelous video games.

Run time 60 minutes.
Suitable for general audiences.

More info on this and all shows please visit: https://tampafringe.org/shows

Tampa International Fringe Festival
(HCC Studio Theatre)

Cost: $15.00/pp

Purchase Tickets: https://tampafringe.org/shows

Dates:
August 4th at 8:45 pm
August 5th at 10:15 pm
August 6th at 5:00 pm


Website: http://www.masksofanimmigrant.net/