Animals Out of Paper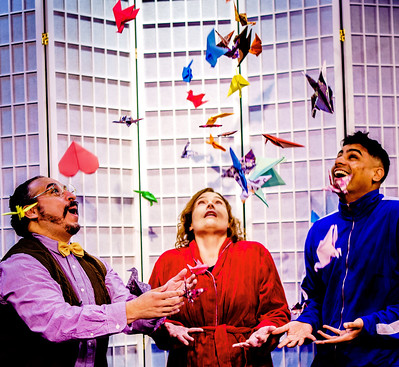 Photos: Ned Averill-Snell
Jobsite Theater, resident professional theater company at the Straz Center in downtown Tampa, is thrilled to present Rajiv Joseph's Animals Out of Paper on stage now through Aug. 7. "engaging and sweetly comic." - Daily News

The 2021-22 season concludes with this quirky romantic comedy with heart, a show we've had planned now for four years (the May 2020 production was suspended by the theater closures).

Ilana, a world-renowned origami artist, is going through a divorce, her dog has run away, and she hasn't answered her phone in two months. Then her intercom buzzes and in walks Andy, a fan, a high school teacher who counts his blessings. Literally — he's up to 7,904. Andy introduces Suresh, an urban teen iPod addict and origami prodigy, into Ilana's life, and the plot folds really get complicated.

Animals Out of Paper is a wise and richly layered comedy/drama from the Pulitzer Prize-nominated author of Bengal Tiger at the Baghdad Zoo. Directed by ensemble member Tatiana Baccari (her first time in the director's chair for us, but whom audiences might remember on stage from Cloud 9 or Othello).
"alternately wrenching and funny. It deals ruthlessly with the fragility of happiness, the tragedy of impulsiveness and the tenuousness of hope." - The New York Times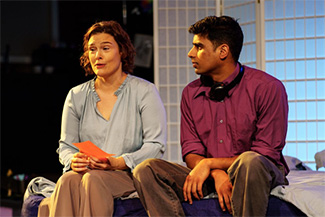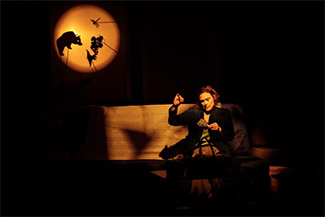 Photos: Ned Averill-Snell
The show stars Nicole Jeannine Smith (Dr. Jekyll & Mr. Hyde), Cornelio "Coky" Aguilera (Romeo & Juliet), and Faizan Basheer in his Jobsite debut.

Animals Out of Paper runs through Aug. 7 in the Straz Center's Shimberg Playhouse, and tickets start at $39.50.
More Info: https://www.jobsitetheater.org/animals-out-of-paper/

Read Tatiana's director's note here.

In an interview with The Brooklyn Rail, Rajiv described his inspiration for the story:

"I came into the subject in a strange way, since I don't fold origami at all," he explains. "I had always been interested in writing a play about a young prodigy. I've always liked chess, but chess-prodigy stories have been done. One night I was sitting on a Greyhound bus next to a woman who was folding origami and we started talking. She told me she teaches children origami, and she noted that every once in a while, a kid will understand how to fold in a way that most other people cannot. She said these kids 'see folds before they happen', which I thought was fascinating, and which led me to the creation of this play."

Rajiv Joseph (Playwright) is an award winning Indian-American playwright whose plays include Bengal Tiger at the Baghdad Zoo (Pulitzer Prize Drama Finalist, grant recipient for Outstanding New American Play by the National Endowment for the Arts), Guards at the Taj (Obie Award for Best New American Play, Lortel Winner for Best Play), Describe the Night (Obie Award for Best New American Play). Other plays include In the Sick Bay of the Santa Maria, Archduke, Gruesome Playground Injuries, The Lake Effect, The North Pool and Mr. Wolf. Joseph has been awarded artistic grants from the Whiting Foundation, United States Artists and the Harold & Mimi Steinberg Charitable Trust. He is a board member of the Lark Play Development Center in New York City, where he develops all his plays. He served for three years in the Peace Corps in Senegal and now lives in Brooklyn, NY.
FINAL REMINDER
The 2022-23 season is on sale now through the end of the month (July) at our lowest prices, up to 70% off the price of single tickets. Individual tickets to the shows, with the exception of Misery, go on sale to the public on Aug. 1. Misery will go on public sale Nov. 1.

PURCHASE TICKETS HERE:
https://www.jobsitetheater.org/2022-23-season