World of Wonder launches World of Drag Quarterly Subscription Box

Merchandise curated by World of Wonder with special items created by Bob the Drag Queen, Sasha Velour and Michelle Visage. Exclusive RuPaul items in each box!

World of Drag Box Available Now! with Bob the Drag Queen


Tell your best squirrel friends! World of Wonder, the multi-platform production company behind RuPaul's Drag Race, RuPaul's Drag Race All Stars and Untucked, present the World of Drag quarterly subscription box.

World of Wonder twirled the globe searching for the most sickening items from your favorite queens. The result? World of Wonder's World of Drag box - a curated collection of custom products designed for your inner drag queen.

Purchase your World of Drag Box at worldofdrag.com. Pre-sale open now!

Items in first World of Drag box:



Purse First makeup bag by Bob The Drag Queen
Running late with no time to put on your face? Toss your makeup into the official Bob the Drag Queen makeup bag and head out the door--purse first, purse first.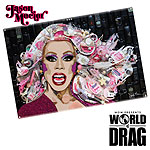 Exclusive RuPaul metal art by artist Jason Mecier
You're born naked and the rest is drag. And art. The way Jason Mecier crafts stunning portraits out of pop culture's detritus is the very definition of drag; that fabulous alchemy of making something out of nothing. It's an honor to bring you his iconic portrait of RuPaul.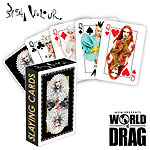 Sasha Velour playing cards
Whether your aesthetic is the Queen of Clubs, Diamonds, Spades or Hearts, these Sasha Slaying Cards will dazzle and distract your opponents in any game. Break them out for a round of strip poker.



Special collector's item edition of The DIVA Rules by Michelle Visage
READING is what? FUNDAMENTAL. Michelle's book teaches you to ditch the drama, find your strength, and sparkle your way to the top.

…and more items chosen with love from:


Unicorn Pool Floats, Drag Tots, Squirrel Friends, Travel Tag,
and WOW Presents Plus

COST:
• Quarterly plan- $59 + $9 shipping & handling
• 2 Quarter plan- $57 + $9 shipping & handling
• Annual pass- $57 + $9 shipping & handling


About World of Wonder:
For more than two decades, award-winning production company World of Wonder has introduced audiences to new worlds, talent and ideas that have shaped culture. WOW is home to multi-platform programming from established and emerging talent, provocative documentaries, award-winning specials, and more. Programming highlights include: Emmy® Award winning "RuPaul's Drag Race" (VH1/Logo), "Million Dollar Listing" LA & NY (Bravo), "Big Freedia: Queen of Bounce" (Fuse), and "Gender Revolution: A Journey with Katie Couric" (National Geographic); award-winning films and documentaries including "Mapplethorpe: Look at the Pictures," "Menendez: Blood Brothers," "Inside Deep Throat," "The Eyes of Tammy Faye," "I Am Britney Jean," "In Vogue: The Editor's Eye," "Carrie Fisher's Wishful Drinking," "Monica in Black and White," Emmy-winning "The Last Beekeeper," and Emmy-winning "Out of Iraq". Seven of their films have premiered at the Sundance Film festival including "Becoming Chaz" and "Party Monster." World of Wonder has created a substantial digital footprint with its YouTube channel WOWPresents, SVOD digital platform WOWPresents Plus, along with an award-winning blog, The WOW Report. Co-founders Randy Barbato and Fenton Bailey authored The World According to Wonder, celebrating 21 years of production, which can be found online at http://worldofwonder.net/. Randy and Fenton were honored with the IDA Pioneer Award in December 2014, celebrating exceptional achievement, leadership, and vision in the nonfiction and documentary community. World of Wonder creates out of a historic building/gallery space in the heart of Hollywood.